STUDENTS EXPERIENCE HAMILTON THE MUSICAL
3/22/2017, noon | Updated on 3/22/2017, noon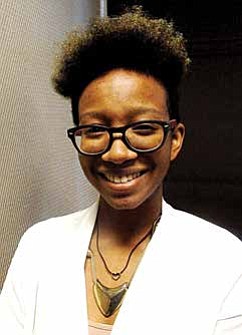 STUDENTS EXPERIENCE HAMILTON THE MUSICAL
By Christopher Shuttlesworth HAMILTON Education Program released "its third of 10 all-student matinee performances in 2017, which will provide 20,000 Chicago high school students the opportunity to experience the musical HAMILTON after having spent several weeks in their classrooms studying American history through a special integrated curriculum about Alexander Hamilton and the nation's Founding Fathers. In addition to seeing a performance of HAMILTON on Mar. 15, 2017, the Chicago students represented various schools in attendance and performed an original work they created based on their classroom studies – songs, rap, poetry, scenes, monologues – on The PrivateBank Theatre stage in front of their peers," according to an HAMILTON press release. The Chicago Citizen was able to speak with Performer Jai Caldwell, who represented Disney Magnet II High School, located at 3900 Lawndale Ave., and who performed a spoken word biography based on the wife of Alexander Hamilton. Citizen
What was the best thing about performing on today?
Caldwell How sincere everybody else was. They were so sweet. The lady that greeted me was so sweet. The stage manager was sweet. I was so happy and people were so enthusiastic and were high-fiving me and holding my hand. I felt so alive! Citizen
What was the most nerve wrecking thing about today?
Caldwell I think when they started and you could hear the music and you actually knew that it's real now and you can't back out anymore or if you heard someone say 'Can I back out now? No.' Citizen
How were you selected for this event?
Caldwell When I was selected there was another group of two. They did a battle between Hamilton and Burr. So, we were all neck and neck. So, my teacher put both videos in a drop box and they chose mine over the other group. But the other group was amazing. Citizen
How do you feel when you're performing?
Caldwell It's very interesting. It starts all the way in my belly and it grows and it spreads and it comes out through my throat and it doesn't sound as pleasant. But it's so inspiring that I feel like I can take over the world, which is something memorable. Citizen
How long have you been performing?
Caldwell This was not my first performance doing poetry. I started my freshmen year for a poetry slam. But any other performances before that were dancing and I'm not very passionate about that. Citizen
Do you plan to keep performing after high school?
Caldwell
Absolutely. I'm not sure because since I'm not very great at the
performance aspect. But I'm good at the writing aspect…maybe I'll be
behind the scenes. I don't know. But I do want to stay in the
area of theater and where you're just out there.