DEAF+HEARING ACTORS TEAM UP WITH CHICAGO'S NEVERBIRD PROJECT FOR PINOCCHIO
3/8/2017, noon | Updated on 3/8/2017, noon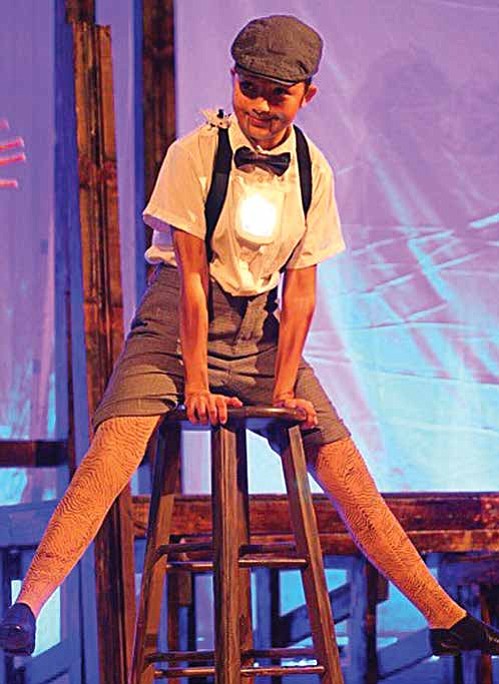 DEAF+HEARING ACTORS TEAM UP WITH CHICAGO'S
NEVERBIRD PROJECT FOR PINOCCHIO
CHICAGO - Young hearing and deaf actors will perform on
stage together in a signed and voice presentation of Pinocchio, only the second production in the new Chicago Children's Theatre, The Station.
Presented in association with Chicago's Neverbird Project, this all-new production of Pinocchio promises to spring to life as an inclusive and inventive take on the classic fairy tale.
Performances are April 20- May 7, 2017 in Chicago Children's Theatre's new 149-seat Pritzker Family Studio Theatre at The Station, 100 S. Racine Avenue, in
Chicago's West Loop community.
With Neverbird's unique integration of Deaf and hearing
actors, children will see this beloved fairy tale in a whole new way, and with a fresh perspective on the story's central question - how do you allow joy and grief to live in your heart simultaneously?
"This production is an example of ground floor inclusion and accessibility," said Levi Holloway, co-founder of Neverbird Project, which first presented Pinocchio in 2017 at Bell Elementary School, a CPS school with a focus on
integrating Deaf and hearing students.
"We are teaching all of our hearing actors ASL to tell the story, to enrich relationships between our Deaf and hearing artists onstage and off. We at Neverbird believe that total accessibility and inclusion is a necessity in American
theater."
To that end, ASL is a native part of the world of the play, and every actor will sign. Through light, sound, spectacle and ASL, this Pinocchio will speak to every age and ability for an unforgettable family theater experience about love, loss, family and hard choices that aren't so hard in the moment.
Neverbird Project's adaptation of Pinocchio is co-written and co-directed by Levi Holloway and Katy Boza. The principal cast features Julissa Contreras, who is Deaf, as Pinocchio, with Haley Bolithon as Blu, Sarah Cartwright as Cricket, Chris Chmelik as Geppetto, Skyler Schremp as Cypress/Hannah and Mary Williamson as Redd the Puppet
Master.
Claudia Tani plays Corktopp, Steven Huetteman is Blowpopp and Elijah Jackson plays Lampwick. The Afters/Redd's Troupe of Vaudevillian Puppets are played by Makeda Duncan, Leah Healy, Paige Healy, Delilah Lane,
Sofia Richter Nia Sarfo, Isabelle Teruel and Tali Vittum.
The Pinocchio production team includes Matt Anderson (ASL
director), Frank Maugeri (scenic design), Nicole Lambert (music director/choreographer), Jeffrey Levin (sound design/composer), Claire Chrzan (light design), Charlotte Mae Ellison (costume design), Yvette Alvardo (costume
production), Larry Heutteman (prop design), Cole Von Glahn (production manager), Corinne Bass (production assistant) and JC Widman (stage manager.) Pinocchio is based on the Italian children's novel "The Adventures of
Pinocchio" by Carlo Collodi, which was popularized by Walt Disney's wildly successful 1940 animated musical fantasy film.