HBCU STUDENTS "DISCOVER THE UNEXPECTED" WITH THE BLACK PRESS
6/21/2017, noon | Updated on 6/21/2017, noon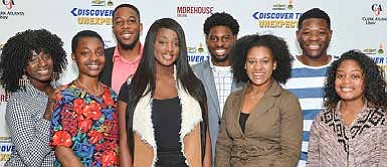 HBCU STUDENTS "DISCOVER THE UNEXPECTED" WITH THE BLACK PRESS
By Noni Marshall and Alexa Imani Spencer
(NNPA/DTU Journalism Fellows) The National Newspaper Publishers Association (NNPA) kicked o' the second year of the "Discover The Unexpected" (DTU) Journalism Fellowship program with an "Immersion"
event in Detroit, Mich. Chevrolet, the sponsor of the program, hosted the student scholars and a handful of NNPA publishers and editors for an interactive experience designed to prepare the fellows for a summer working with the Black Press.
The 2017 DTU journalism fellows are: Alexa Imani Spencer and Noni Marshall from Howard University; Kelsey Jones and Taylor Burris from Spelman College; Jordan Fisher and Tiana Hunt from Clark Atlanta University; and Ayron Lewallen and Darrell Williams from Morehouse
College.
The trip commenced with a welcome ceremony at a repurposed firehouse that serves as the commercial studio of Ed Welburn, the former vice president of Global Design at General Motors (GM). Representatives from GM and the NNPA greeted the fellows. The all-new 2018 Chevrolet Equinox was parked at the entrance.
Chevrolet sent an all-new Equinox to each of the participating NNPA
member publications for the DTU fellows to use for a month during the program.
After a joyous welcome from the program's team, Dr. Benjamin F.
Chavis, Jr., the president and CEO of the NNPA and Michelle Alexander, the diversity marketing manager for Chevrolet, delivered remarks. Serving as this year's Road Trip Navigator, Jamilah Lemieux, the vice president of News
and Men's Programming for Interactive One's, expressed the importance of Black media.
"I am firm believer in the urgency of protecting the future of Black media, of making sure that we have ample opportunity to not just tell our stories well, because we've always been able to tell our stories well, but to amplify them," Lemieux said.
After Lemieux's poignant remarks, the scholars were led outside of the firehouse where one bright red and three splashy orange Chevrolet Equinoxes awaited them. The DTU fellows in teams of two, accompanied by Chevrolet sta'ers and coordinators from the program, piled into the four SUVs ready to explore Detroit. Scavenger hunt clues rang clearly
through the speakers of the Equinox and they were o' to navigate the city. The clues led the teams to four, distinct locations: Dilla's Delights, Detroit vs. Everybody, N'Namdi Center for Contemporary Art, and the Charles H. Wright
Museum of African American History.
At each stop, the students interviewed the shop owners, clerks, curators, and museum guides, documenting their visits for their first assignments as DTU fellows. Burris said that speaking to the clerk at Detroit vs. Everybody,
a boutique clothing store, was her favorite part of the scavenger hunt.
"It was obvious that Sade, the clerk, was very knowledgeable about what their brand means and how it is
continuously uplifting the community and defying the odds," said Burris, who will partner with Ayron Lewallen at The Carolinian this summer.
The scavenger hunt ended with a tour of the Charles H. Wright Museum of African American History. Ken Barrett, the chief diversity oªcer for GM, gave brief remarks about the importance of the program and the role of journalists in society.