Film Seeks to Change How Women & Girls See Themselves
6/21/2017, noon | Updated on 6/21/2017, noon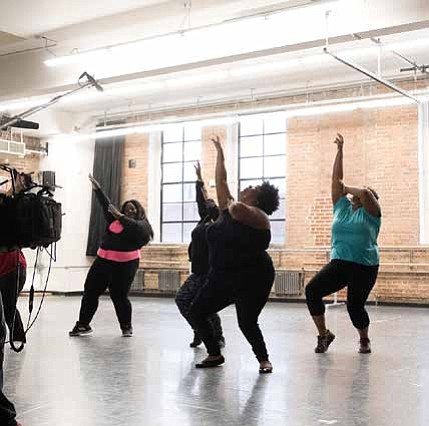 Film Seeks to Change How Women &
Girls See Themselves
ENGLEWOOD CLIFFS, NJ
With Shonda Rhimes as its Creative Director, Dove Real Beauty Productions has released its first film titled "Meet Cathleen." Launched in March, Dove Real Beauty Productions is a new collaborative content studio that shifts the power of storytelling from Hollywood into the hands of real women. The premiere three minute film follows Cathleen Meredith on
her journey to realizing her own beauty through her love of dance. With 69% of women saying they don't see themselves reflected in media, Dove is proud to give a platform to Cathleen's story with the hope of encouraging women to be fearless in taking on challenges so that they can find
self-love and through the celebration of their passions.
Dove research shows 71% of women and 67% of girls wish media did a better job of portraying women of diverse physical appearance - age, race, shape and size. With Real Beauty Productions, Dove is setting out to change that.
Dove and I have a shared passion in emphasizing what's real. The characters that I write about come from the fact that I wanted to see real women on TV - the real and messy stu‹ that makes us human," said Shonda Rhimes. "In working with Dove and Real Beauty Productions, we get
to talk to real women and hear their own beauty stories. The idea that Cathleen defines beauty as self-love is a very mind blowing concept. I don't think a lot of us, me included, define beauty in terms of self love.
And, to me, that is so empowering."
Cathleen and her dance group Fat Girls Dance became a body-positive modern dance movement when they began challenging themselves to learn, perform and record one dance a week for a year. It was through watching herself dance in videos that Cathleen start loving and embracing her body – a feeling she never knew she was missing. Watching herself perform fearlessly helped Cathleen find a renewed confidence, falling in love with her body and beauty with every move. Through the process, she unknowingly encouraged others watching her dance to embrace their bodies as well.
"I don't think we know how much we are told that there is something wrong with our bodies. I think beauty should be fearlessness. I
think beauty should be resilience. I think beauty should be creativity," said Cathleen. "I feel so lucky to have worked with a powerful role model like
Shonda Rhimes on such an important project – one I hope will inspire every other woman out there to define beauty for themselves."
For 60 years, Dove has championed #RealBeauty and, true to its pledge, the brand remains committed to only feature real women, to never digitally alter their appearance, and to help the next generation develop a positive
relationship with their beauty. In fact, the Dove Self-Esteem Project has reached more than 20 million girls with self-esteem education to date,
and is committed to reaching 20 million more by 2020. According to a news release, Dove launched Real Beauty Productions to show the
world that beauty is not defined by shape, size or color – it's feeling like the best version of yourself. Together, with real women and girls, Dove plans to change the way women and girls are seen for the next 60 years.
Tune-in to see the full film "Meet Cathleen" at Youtube.com/DoveUS. Women can learn more about the campaign and share their story at Dove.com/RealBeauty.