ORGANIZATION PLEDGES SUPPORT FOR CONTROVERSIAL HOUSING DEVELOPMENT
6/14/2017, noon | Updated on 6/14/2017, noon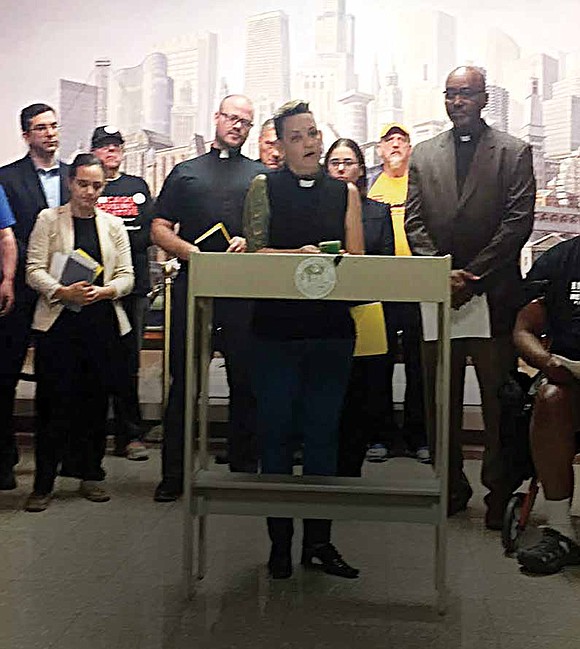 Organization Pledges Support for Controversial Housing Development
By Christopher Shuttlesworth
Mayor Rahm Emanuel attended a city veteran's press conference on May 24, 2017 where he discussed a controversial Northwest Side Housing Development in Jefferson Park designed to house veterans and minorities. The development has become the source of rising contentions between groups who are finding themselves on opposite sides of the issue. Comments made by the mayor at the press conference have led to a mixed emotions between Jefferson Park residents, veterans and the Neighbors for Affordable Housing in Jefferson Park.
Back on Feb. 9, 2017, Alderman John Arena held a community meeting where he presented Jefferson Park community members with a proposed layout of the development which included a storage facility and a seven story, mixed-income housing property to be located on 5150 N. Northwest Highway. The 100-unit complex will also include 51 3-bedroom units and 49 1 and 2-bedroom units.
But during the meeting, Jefferson Park residents were reportedly outraged, allegedly shouting out racial slurs directed towards minorities and families who are expected to live at the building, according to a Sargent Shriver National Center on Poverty Law letter which was reportedly sent to Chicago's Corporation Counsel.
In the Shriver Center's letter, it stated that in the meeting, one resident asked about the developer's tenant screening process and how it would stop tenants from inviting, 'every miscreant son, brother, nephew and cousin over to the neighborhood.'
Leah Levinger, who is the Director of the Chicago Housing Initiative, explained that her organization sent 300 pages of written documentation and video evidence to the Mayor's office on May 18, 2017, which showcased first-hand examples of the reported racism and bigotry that was allegedly demonstrated by both ranking members and elected leaders representing the Jefferson Park community residents.
Levinger, who described the statements as "horrendous," said, "It's like 1960's type statements," characterizing the comments as "extremely racist."
In a Chicago Housing Initiative press release, Mayor Emanuel was criticized during the May 24th veteran's press conference for saying members representing the Jefferson Park residents needed to be heard, calling the process to build the development a "collaborative," effort.
"Racism does not deserve to be heard and segregation is not something we will collaborate with," Pastor Robert Jones of Mt. Caramel Baptist Church said. "We do not compromise with hate."
Levinger added, "[Mayor Emanuel] and the city corporation counsel are well aware of the racial animosity motivating the opposition parties on the Northwest Side. So, for him to turn around and say they deserve to be heard and they deserve a collaborative process and they deserve compromise shows a severe erosion of the civil rights terrain."
Levinger said the Chicago Housing Initiative would love for the first affordable CHA's Family and Veteran Housing Development to be on the Northwest Side of Chicago, and made it clear that they do not want to mark residents as racists, but only unmask the structures that keep certain people from experiencing the best qualities of life.
"It's only the bigotry of the neighbors that is getting in the way of the possibility of people being able to raise their families in an area with a lot of amenities and opportunities," Levinger said, adding, "everyone deserves affordable housing because it is a basic human need and a basic human right and the city of Chicago has the resources to do a lot more to provide access to it."
"This community on the North and West side feeds into a level one elementary school," Levinger said. "It is an extremely transit rich area that is just a half-mile from the Jefferson Park Blue line and has 13 major bus routes and is within 30 minutes of 700,000 jobs. So, this is exactly the kind of place where affordable housing should be so people can have a good, quality life."
Levinger said her organization will continue to fight to see the development through.