INITIATIVE OPENS UP NEW DOORS TO BLACK FEMALE TEENS
6/14/2017, noon | Updated on 6/14/2017, noon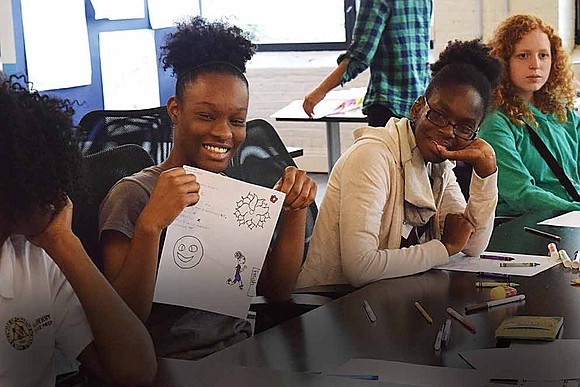 INITIATIVE OPENS UP NEW DOORS TO BLACK FEMALE TEENS
By Chris Shuttlesworth
Brave Initiatives is an influential Chicago-based nonprofit organization that has offered free- computer coding camps
to high school girls over the past two years.
A program, founded by three women, was started out of their passion for computer science and technology. Emily Harburg, who is Brave Initiatives Director of Curriculum
and Program Development, said although she and her co-founders feared studying computer science in their earlier years, they still wanted to create a program to encourage
young ladies to learn and utilize the skill of computer science.
"Part of our goal is to create programs that allow girls to get the spirit and confidence in computer science," Harburg said. "So, when they're graduating high school, they are considering computer science programs and looking at colleges that may allow them to study computer science to
help push them into this career."
She said it's been amazing to see the kinds of solutions that the young ladies, who didn't even have an interest in computer coding, come in and combat social issues within their respective communities, and ultimately realize how big their voice can be.
"It's been really amazing to watch girls come in who didn't think they could code or ones who had no desire to code and then see the incredible things they came up
with," Harburg said. "The girls are building websites to solve issues in their community.
So, girls come in and are passionate about bullying or passionate about stereotypes or improving the educational system in schools and build websites that solve those problems."
She said Brave Initiatives will have four camps during the summer of 2017, which will begin in mid-June and will
end in August. Young women who are interested can apply online at https://www. braveinitiatives.com.
Harburg added, that there will also be a summer program in San Francisco, California and Jamaica because Brave Initiatives is trying to have the program not
only in the U.S., but around the world.
"There has been a lot of research on
diverse teens being better applicants," she said. "So, Brave Initiatives is discussing to see how we can get companies to hire those types of women as well."
Harburg said an estimate of 75 percent of jobs will be in computer science by the year 2030. So, she said Brave Initiatives is trying to help more women get inside a male-dominated field that currently only represents "25% of females in the workforce," according to a Brave Initiatives
press release.
She continued to explain that there are a lot of technology companies looking to hire women, but there aren't too many women who are trained in the field and who have the skills to fill the roles. So, ultimately the tech roles a repredominately filled by white men.
"We really feel that we need more women in these roles and we need to get them in this field," Harburg said. "So, as these jobs come in and continue to increase, women will have the ability to be at the table and take those jobs."