HSE PROGRAM HELPS ADULT LEARNERS AT SSC
6/14/2017, noon | Updated on 6/14/2017, noon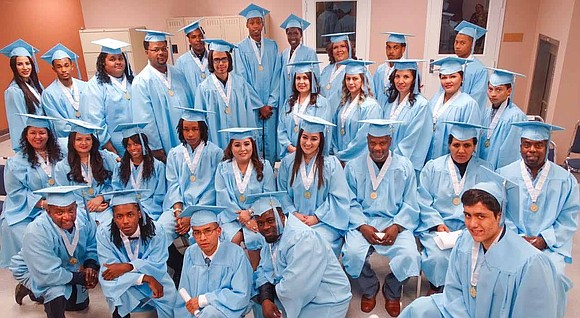 HSE PROGRAM HELPS ADULT LEARNERS AT SSC
By Christopher Shuttlesworth
South Suburban College (SSC), which is located at 15800 S. State St., has been helping adults earn their GED through its HSE program
since 1970.
The HSE program helps students develop the skills required to pass the High School Equivalency Exams while the curriculum includes courses in language arts, writing, reading, social studies, science, mathematics,
and the U.S. and Illinois Constitutions.
One outstanding student who recently took the HSE course is Paul Hughes, who says the program has helped him see that education
opens up doors.
Hughes, 43, who is a South Suburban resident, said he attended the SSC HSE program during the 2016 Fall semester so he could obtain
his GED and further his career in business.
"One of the ways it benefited me was that it made me stand up amongst my family and children," he said. "Everyone knows to get a
GED or HS diploma is very difficult to do at some points and to accomplish that is one of the biggest things that has benefited me." Hughes said he plans to further his education at SSC and is in the process of developing his own start-up company. He also plans to enroll into SSC in the Fall in preparation towards obtaining an Associate's Degree in Business.
Matthew Beasland, who is SSC's dean of adult education, said initially the program was formed to help adults obtain just their GED, but now the college is focused on helping students earn job skills and opportunities and even continue their college education.
According to Beasland, there is a high non-completion rate with high school students, especially in school district 205, which is the Thornton District. He said in the district, there is a 74 percent completion rate and a 24 percent non-completion rate within four years of high school.
"If you think about 24 percent of a high school class then that can be 100 students," Beasland said. "So, nowadays, the GED is just a stepping stone. You almost need a short-term certificate or a degree after that in order to make a livable wage."
Registration for the next High School Equivalency and English Language Acquisition classes start on September 11 and continue
through September 13 at SSC. For more information, contact the Adult Education Department at (708) 596-2000.