Full Grain Leather Wallets for Women Launched
6/7/2017, noon | Updated on 6/7/2017, noon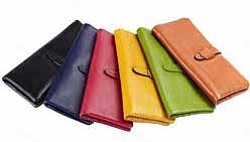 Full Grain Leather Wallets for Women Launched
TadaWallets.com recently announced Full Grain Long Bi-Fold Strap Closure Wallets for Women.
The new long, bi-fold full-grain leather wallets can fit cash, 12 cards, and includes one inner pocket (for spare cash or important receipts.) The wallets are a perfect combination of style and practicality for women of all ages, profession, and fashion preferences.
The strap closure allows for extra security and the wallet stays snug
and closed. The wallets are built for maximum safety and organization of
cash and cards. It is perfect for casual use when paying bills or picking up groceries, but can also be appropriate for going out to have dinner with friends.
It might not be easy looking for that one perfect wallet. The good news is that you don't have to look too far to take a look at all the best choices.
The official website www.tadawallets.com has a wide selection of wallets for men and women, catering to all kinds of needs. Apart from wallets, Tadawallets also oœers purses, clutches, and coin pouches. You can accessorize to your heart's content, without breaking your budget. For more information, visit The official website www. tadawallets.com.
Medical Shoes Market Growing at a CAGR 8.12% During 2017 - 2022 Says a New Report at ReportsnReports.com
The report, "Global Medical Shoes Market: Analysis By Product Type, By End User, By Distribution Channel, By Region, By Country: Opportunities and Forecast
(2017-2022), has covered and analysed the potential of Global Medical Shoes Market and provides statistics and information on market size, shares and growth factors. The report intends to provide cutting-edge market intelligence
and help decision makers take sound investment evaluation.
Browse 2 Tables and 114 Figures, 10 Major Company Profiles, spread across 180 pages available at http://www. reportsnreports.com/reports/1010793-global-medicalshoes- market-analysis-by-product-type-by-end-user bydistribution- channel-by-region-by-country-opportunitiesand- forecast-2017-2022-by-product-type-diabetic-shoesrheumatoid- arthritis-sho-ia-japan.html.
Besides, the report also identifies and analyses the emerging trends along with major drivers, challenges and opportunities in the global Medical Shoes market. Additionally, the report also highlights market entry strategies for various companies across the globe.