RISE UP
DOCUMENTARIES TELL THE STORIES OF YOUNG, BLACK TEENS AND THEIR EXPERIENCES WITH VIOLENCE
7/19/2017, noon | Updated on 7/19/2017, noon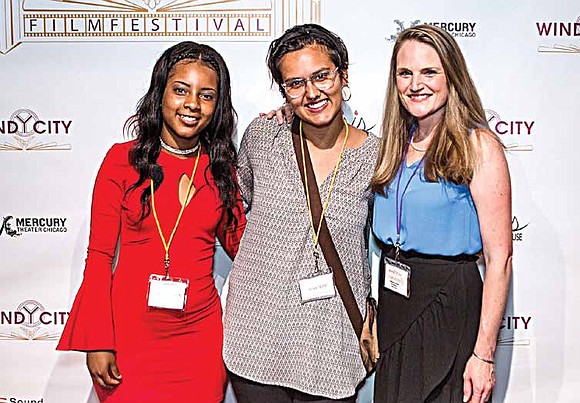 RISE UP DOCUMENTARIES TELL THE STORIES OF YOUNG, BLACK TEENS AND THEIR EXPERIENCES WITH VIOLENCE
By: Christopher Shuttlesworth
Through a documentary filmmaking program, young black women are sharing the impact violence has had on their lives, while at the same time learning to become filmmakers.
Through 'Rise Up', four young teens from the South Side of Chicago had the opportunity to create a film and share their personal stories on how they have witnessed loved ones become
victims of violence in Chicago.
DePaul University's School of Cinematic Arts decided to create the documentary filmmaking class for young girls during the summer of 2016.
Since then, the six-week course has helped the teens tell their stories and inspire others around the world.
One teen who decided to join this year's Rise Up program was 18-year-old Franshay Lopez, who was raised on the South Side of Chicago in the neighborhood of 67th and Drexel.
Lopez said her and the other girls wanted to create a film about violence in Chicago and give people a clear picture
of what it's really like to live in the thick of it.
"My [19 year old] cousin Frank Jones got killed protecting his younger brother from a drunk person," she said. "But the
person ended up turning themselves into the [police] a couple days later. So, in the film, I talked about how it made me want to go after my dreams more and how I didn't let it bring me down. I wanted to do it for him," she said, adding when she found out her cousin Frank Jones was killed, she was really in a state of shock.
"At the moment, I didn't have a feeling," Lopez said. "I was just in shock and I didn't know what to do."
While her goal is to pursue a career in the United States Air Force, Lopez said she encourages more young women to get involved in the program. It can help them stay focused, she said, and help them to become better team players.
The best part of the documentary process was when,
"we all shared our stories and how everyone bonded and
connected with each other," Lopez commented.
The four teen filmmakers also submitted their completed
'Rise Up' documentaries into film festivals, and were able to screen their personal films on June 30, 2017, at the Windy City International Film Festival located at Mercury Theatre on 3745 North Southport Ave.