Wearing Your Beauty Boldly, Black Women Share Sisterhood on Gele Day
7/12/2017, noon | Updated on 7/12/2017, noon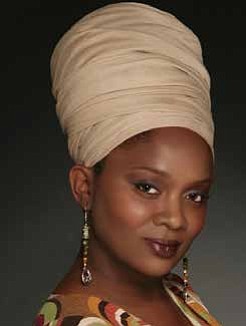 Wearing Your Beauty Boldly, Black Women Share Sisterhood on Gele Day
(Chicago, IL) - The WRAP Your be-YOU-ty Movement honors, teaches, inspires and celebrates the indigenous beauty practices of head wrapping, cultural dress, tribal song and dance with its 6th Annual Gele Day Saturday July 22nd from 10 am - 4 pm a t
63rd Hayes Beach Park.
The free event calls for unity specifically between African and
African-American women and seeks to empower women, bridge the gaps and foster connectivity across communities.
The event encourages black women to come with an open mind and heart, give love and receive love because there will be lots of it in the midst. The 2017 City of Chicago Year of Public Art Artist Grant Recipient Gele Day 2017 theme is Mu Kawo Tare (We Bring Together).
Gele Day 2017 is partially supported by a grant from the City of Chicago Department of Cultural Affairs & Special Events, as well as a grant from the Illinois Arts Council Agency, a state agency
through federal funds provided by the National Endowment for the Arts.
In 2016, Gele Day drew over 300 participants and the collective impact of the e vent reached well into the thousands on social media and encouraged as well as promoted the patronage of sponsored local businesses, social groups, organizations and service providers located on the southside of Chicago.
Since its 2012 inaugural, Gele Day has been a peaceful morning
and afternoon of mini workshops that foster cultural awareness and
self-care to the disenfranchised, trauma-impacted south side
communities of Chicago in a fun, family-friendly environment. The
event has always demonstrated an active engagement of ancient
indigenous art forms such as head wrapping as an expression of love, Tibetan singing bowls, African/ West Indian dance, spoken word, song and drum, local Chicago artists and practitioners offering their time and talents to teach and inspire.
As a first generation Trinidadian American, writer, artist and teacher founder Pilar Audain Reed has always stood in the gaps between the history of the sacred Nig erian Gele (headwrap)
and the amazing tale of the g ele across the ocean to the Caribbean and throughout the Americas.
"As the seeds of our African ancestors brought to the Americas, we hold the traditions in our hearts and embody many of the traditions passed on to us. For years I have taught the power of the head wrap as a reverence to God and taught sisters to wrap one another's head as a term of endearment and show of love." Reed may be known to some as the "Dove girl". Ten years ago she opened a nation wide commercial for Dove singing and wearing her
signature gele. The company loved her so much that they closed the commercial with her . She was then invited to Oprah's Life class and sa t next to Cindy Crawford to talk about the experience and
what her gele represented for her.
The Wrap Your beYOUty Movement is comprised of community members, artists and creatives who are committed to celebrating cultural awareness, self-care and mindfulness in the midst
of the current state of violence in Chicago. For more information on Gele Day, visit http:// www.kreativesoulsbypilar.com/gele_day.