PERFORMANCES ANNOUNCED FOR CHRP
7/12/2017, noon | Updated on 7/12/2017, noon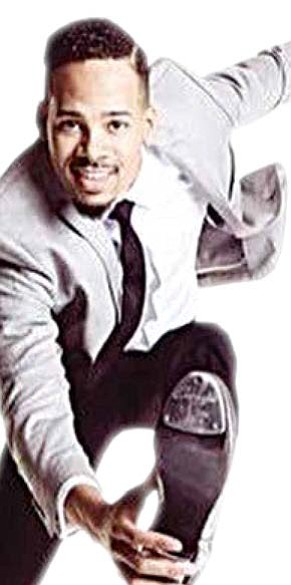 PERFORMANCES ANNOUNCED FOR CHRP
Showcasing a wide range of performers and repertoire,
Chicago Human Rhythm Project (CHRP) announces the programs for three of the performances during its 27th annual summer festival of American tap and percussive dance, Rhythm World.
Opening the week of performances is the annual appearance Monday, July 17 at 8 p.m. at the Jazz Showcase, 806 S. Plymouth Court.
Emceed by and featuring STOMP alumna and Broadway hoofer (Shu¸e Along) Lisa LaTouche, the evening includes Maud Arnold, Bril Barrett, CHRP's new Artist
In Residence Dani Borak, STOMP cast member Ali Bradley, Tristan Bruns, Star Dixon, Tre Dumas, Lee Howard, Sean Kaminski, Nico Rubio and Jumaane Taylor, accompanied by a jazz trio featuring Vijay Tellis-Nayak on piano, Eric Hochberg on bass and Ernie Adams on drums. Tickets are $15-30 and available at eventbrite. com/e/rhythm-world-27-openingnight-
at-the-jazz-showcasetickets- 34698379788.
The JUBA! Masters of Tap and Percussive Dance concerts, the
crowning events of Rhythm World, feature a host of extraordinary foot drummers and percussive arts masters July 21 and 22 at 7:30
p.m. in the Studebaker Theater at the Fine Arts Building, 410 S.
Michigan Ave., Chicago. The programs are as follows:
Friday, July 21-The evening includes a performance for
the general public and also serves as CHRP's annual fundraising gala, Jubalee.
The concert features Chicago Human Rhythm Project performing a world premiere by Artist in Residence Dani Borak and three classics by African-American choreographers Buster Brown, Lon Chaney and Harold "Stumpy" Cromer; STOMP alumna and
Broadway hoofer (Shu¸e Along) Lisa LaTouche performing
her masterpiece Love Me or Leave Me with Tre Dumas and
Nico Rubio; STOMP cast members Ali Bradley and Jeremy Price; North Carolina Youth Tap Ensemble; solo performances by Lee Howard and Jumaane Taylor; a trio performance by Star Dixon, Donnetta Jackson and Imania Fatima Detry; scholarship students
from Tokyo directed by Yukiko Misumi; and a recreation of one movement from William Orlowski's Brandenburg Concerto #3 in G
Major with dancers from Kim Chalovich's Tap Dance Centre and CHRP. Tickets are $25-55 and available at eventbrite.com/e/jubamasters- of-tap-and-percussive-dance-friday-july-21- tickets-34698650598.
During the Jubalee festivities, CHRP honors The Chicago Community Trust and its President and CEO Terry Mazany with the JUBA! Award for Extraordinary Support for the Arts and Community in Chicago. The event includes pre- and post-show receptions. Tickets are $225-250 and available at eventbrite.com/e/chrpsjubalee- gala-friday-july-21-tickets-34800052895.
Saturday, July 22-The performance features CHRP performing several works, including MacArthur Fellowship ("Genius") winner Michelle Dorrance's Push Past Break, a work blending two iconic American art forms, the blues and tap dance, that she created for CHRP with support from the Princess Grace Foundation and the Auditorium Theatre's Movement + Movement Festival; solos by Dani Borak, Star Dixon, Tristan Bruns and the godmother of the Japanese tap community, Yukiko Misumi; and performances by Jus' LisTeN, Bril Barrett with M.A.D.D. Rhythms and more. Tickets are $25- 55 and available at eventbrite.com/e/juba-masters-of-tap-andpercussive- dance-saturday-july-22-tickets-34699678673.
For complete Rhythm World information, visit chicagotap.org or call 312-542-CHRP (2477).