MELANIN VOICES HOSTED IN HYDE PARK
7/12/2017, noon | Updated on 7/12/2017, noon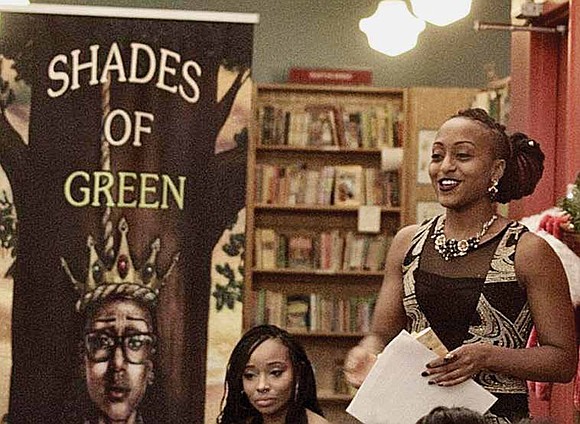 MELANIN VOICES HOSTED IN HYDE PARK
Show, series, readings and performances focused on the experiences of black women Chicago, IL- Coming to Chicago's parks this summer is Melanin Voices, a performance collective series of poetry and live literature purposed to showcase the local, unsung voices in literature and highlight the narratives illuminated from their
writings. Audiences will be taken on a poetic journey through the work of the collective.
The largely scripted show, inclusive of poetry, short stories, vignettes, fiction, and non-fiction work of various Chicago artists, is weaved together to create a beautiful narrative. The readings and performances are centered on the experiences of black
women.
Voices in this series are inclusive of queer, cis and transgender, and youth specifically, young black girls. The summer performance tour kicked o€ on June 17. The
following parks will host Melanin Voices this summer: Buttercup Playlot Park, 4901 N. Sheridan Rd. Saturday, June 17th | 4 – 6 pm Nichols Park, 1355 E. 53rd St. Saturday, July 22nd | 4 – 6 pm — Columbus Park Refectory, 5701 W. Jackson Blvd.
Saturday, August 26th | 4– 6 pm.
Melanin Voices is presented as part of the Chicago Park District's Night Out in the Parks series, supported by Mayor Rahm Emanuel.
Arts programming in neighborhoods across the city advances the goals of the Chicago Park District and the Chicago Cultural Plan. Now in its fifth year, the 2017 Night Out in the Parks series will host over 1,200 cultural events and programs at more than 250 neighborhood parks throughout the city. Projects will vary from
traditional performances and concerts, to movies, peace rallies, community workshops, nature based programs, dance pieces, festivals, and more.
The Chicago Park District has partnered with more than 100 arts and community organizations to expand and produce this initiative. About Glenance Green Local writer, activist, and published author of the book Shades of Green Glenance Green started her own creative agency, A g Thing! in 2016 as a strategy for uniting local artists and their crafts across creative communities and an attempt to showcase narratives often untold and voices traditionally unacknowledged.
At its core, A g Thing! seeks to bring unsung voices and their narratives to the
broader community. For more information about Glenance Green, please follow her on Instagram @innerg_is_me or visit her websites www. glenancegreen.com or www.thisagthing.com.