ENERGY TECHNOLOGY INITIATIVE HAS A "KOOL" AMBASSADOR
1/18/2017, 6 a.m. | Updated on 1/18/2017, 6 a.m.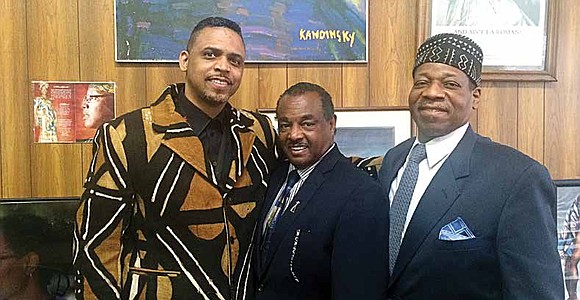 ENERGY TECHNOLOGY INITIATIVE HAS A "KOOL" AMBASSADOR
By Monique Smith
The national discussion on global warming and climate change has propelled government leaders and others to think about ways to create and capitalize on alternative energy and fueling sources.
Solar power is energy from the sun that is converted
into thermal or electrical energy as defined by the Solar
Energy Industries Association. Solar energy is the
cleanest and most abundant renewable energy source
available, and the U.S. has some of the richest solar
resources in the world.
Some of the new advances in solar energy translate
into the creation of jobs and opportunities. Founding member
of R&B funk band Kool and the Gang, Robert "Kool" Bell has
become a global ambassador for sustainable energy and
recently visited the Betty Shabazz International Charter School to promote new energy technologies and a new partnership.
Bell toured the school alongside Dr. G. Avi Arrington,
who is the founder and Executive Director of Reboot Green 8.0 Urban Tech Center and Global Innovation Institute, which is a social enterprise and foundation located in West Pullman at 1201 West 115th Street. Reboot Green 8.0 UTCGII provides training in Solar and Renewable Energy Technologies, HVAC, Energy Efficiency, BTI, Cyber Security, Web Design, Coding ,Gaming, Animation, App Development, 3D Printing, Social Media / Digital Marketing and Promotion, Hydroponics, Urban Agri-Business, Textile Merchandising and Fashion Design, STEM and STEAM (Science, Technology, Engineering and Mathematics), and Entrepreneurship, which
addresses "The Digital Divide" in underserved communities.
"Sustainable energy is one of the fastest growing industries in the U.S.," said Dr. Arrington. "We want to prepare our young people so they can take advantage of the
opportunities that are going to come out of this industry."
Bell says that his interest in sustainable energy began some time ago? but was really ignited after a previous visit here to Chicago. "A year ago, I visited IIT (Illinois Institute of Technology) and witnessed what they were doing with solar energy and I've made more than 30 trips back and forth to Africa over the last 30 years and between watching
what they are doing with solar energy, I mean the weather there is sunny 80% of the time, it just makes sense." Bell and "the Gang" are still touring and performing across the country. "I would like to start doing power concerts. These are concerts that are powered by solar energy opposed
to a bunch of generators," he said. Principal Shannon Mason
said that the students at Betty Shabazz are already being
prepared for pathways into sustainable energy. "We have
a STEM lab which we call STEAM lab because we include
art as a part of the learning, we have a robotics program and we teach the students about everything from programming to writing code."
Bell says they are working to put on a benefit concert here in Chicago sometime later this year to raise money to further fund programs like Reboot Green 8.0. All three men agree that black children must crossover from the consumer side of technology to becoming the architects of new technology.