Loola Cosmetics Launches Hybrid Beauty Line
1/3/2017, midnight | Updated on 1/3/2017, midnight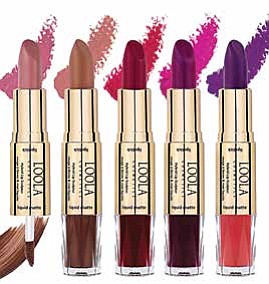 Loola Cosmetics Launches Hybrid Beauty Line
Loola Cosmetics has launched its Hybrid beauty products line starting with its Hybrid Lip Sculptor.
Beauty lovers and enthusiasts often find their drawers and beauty
kits cluttered with cosmetics, but Loola's new multipurpose beauty products (starting with its Hybrid Lip Sculptor) prove that minimalism can go a long way. In order to make the most of the money consumers spend. Many
savvy beauty shoppers are making the smart choice to purchase single products that are double duty (multi-functional).
Loola has been fans of manyin- 1 products ever since technology
came along, according to a company release. "Call it our inner lazy doll, but there's something incredibly appealing about any travel friendly product that saves us time, money, and reduces clutter," a company spokesperson elaborated.
Loola asks, why use two or three products when you could use just one to accomplish the same effect? Enter the new generation of Loola hybrid beauty products. Loola Cosmetics Hybrid beauty line wins all the major factors (from convenience to price)! The company has started its line with its lip product. The Loola Cosmetics hybrid lip sculptor is 2 in 1 lipstick with 4 functions. It has a liquid lipstick, and lipstick in different shades that can be mixed, matched,
worn alone, or used to create an ombré styled Lip. For more information visit, http://www. loolacosmetics.com/.