CSU STEM STUDENTS WIN INTERNATIONAL POSTER COMPETITIONS
1/3/2017, midnight | Updated on 1/3/2017, midnight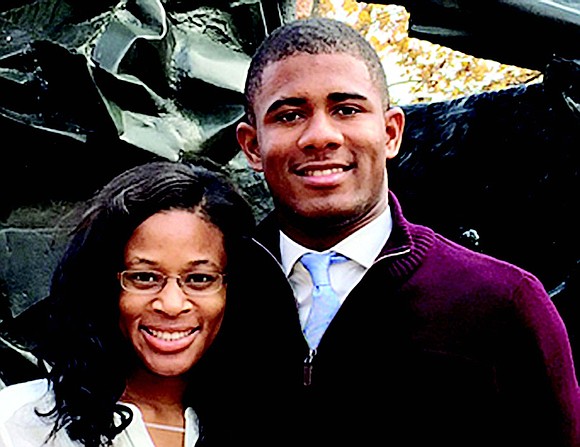 Two Chicago State University students were scientific poster presentation winners at international conferences where they displayed and explained their undergraduate research projects.
Eric Madu and Muriel McClendon, were winners at meetings that they attended recently representing their respective departments – the Department of Biological Sciences and the Department of Chemistry, Physics, and Engineering Studies.
In November, Eric Madu attended The National Organization for the Professional Advancement of Black Chemists and Chemical Engineers (NOBCChE) in Raleigh, North Carolina, and he won 1st Place in the BioPhysics Division landing a $500 cash prize for his on "Growth Rate, Trichome Density, and Phenylalanine Amonia-Lyase Expression in Ocimum basilicum Lamiacea Subjected to Different Nutrient Conditions". Eric's work, which is an ongoing research project, was completed in Professor
Joyce Gana's laboratory at CSU. Eric was among 7 CSU scholars who presented their work at NOBCChE.
Also in November in Tampa, FL, Muriel McClendon placed in the top eighteen in the Chemistry Division at the ABRCMS
Conference (Annual Biomedical Research Conference for Minority Students). There were over 2,035 research presentations in 20 areas of biomedical and behavioral
research at the conference which was attended by 3,600 students, faculty, administrators, and 350 exhibitor booths. The title of Muriel's poster was "Detection of Aniline Containing Pharmaceuticals Using Bratton- Marshall Reagent". Her work was completed during a summer undergraduate research experience directed by Professor Marya Lieberman at the University of Notre Dame, and at Moi University in Eldoret, Kenya. Muriel was among 8 CSU scholars who presented their work at ABRCMS.