Illinois Veterans Receive Child-Care Assistance
2/22/2017, noon | Updated on 2/22/2017, noon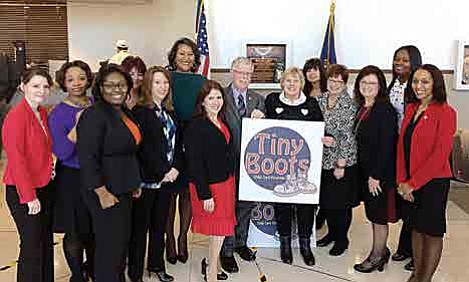 Illinois Veterans Receive Child-Care Assistance
The Illinois Department of Veterans Affairs along with IDVA Director Erica Jeffries and Lt. Governor Evelyn Sanguinetti recently announced a new pilot program called, "Tiny Boots Child Care Program." The announcement was made at
Hines VA Hospital located on 5000 S. 5th Ave.
The Tiny Boots Child Care program is free for all Illinois veterans who are in need of medical assistance, counseling, physiological care and treatment in addition to child care. The
pilot program is in partnership with the YWCA Metropolitan Chicago and the USDVA and is funded by a Veteran Cash Grant, according to Illinois.gov.
IDVA Assistant Director Harry Sawyer, said he and his wife who has been in child care service for 35 years, came up with the idea to help veterans currently in the Cook, Kane and DuPage Counties. He believes there is no other veterans
program in the nation like it.
Sawyer explained that the program is vital
for Illinois veterans because for many years, veterans with children have been without su›cient assistance in helping them to fight for more stable families.
"It's important to have a program like this because men and more so, now women veterans who have children are seeking treatment and help," Sawyer said. "[Today, women veterans] have one or two children or their husbands are working or they're unemployed and currently are [searching] for jobs. And the women veterans can't take their children on interviews or medical evaluations, so they need child care and we want to help them by providing this service."
Sawyer said the project, "Tiny Boots Child Care," all came together while he and his wife were thinking of ways to help veterans in need.
"We went out to the YWCA organization in the Chicago Metropolitan area and their organization along, with the Illinois Department of Veterans Affairs, assisted us in putting together programs and training [140] daycare providers along with the
YWCA's entire sta£ to make a [safe] environment for
veteran's children," he said.
Many veterans were ecstatic when they heard the announcement of the new child care program, which began on Feb. 14, 2017, he said, adding, now veterans with children can get the assistance they need.
"The [veterans] were very excited," Sawyer said. "One [unidentified] veteran man and his wife, who have a four-year-old disabled child, were looking for a daycare so they could both receive help and treatment at the VA facility. Now, the YWCA is working with them to find a child care provider who handles special needs children."
Sawyer also explained how another veteran female who has a five year old son was currently looking for a job in Cook County and is now receiving help through the YWCA. Because of the program, she can go to interviews and complete resume writing.
"We're running "Tiny Boots Child Care," as a pilot program
and we're hoping to spread it out throughout 100 counties in the state of Illinois," said Sawyer.