Civil Rights Activist Dick Gregory Delivered The Keynote Address During Thornton Township 10th Annual Black History Month Celebration
2/22/2017, noon | Updated on 2/22/2017, noon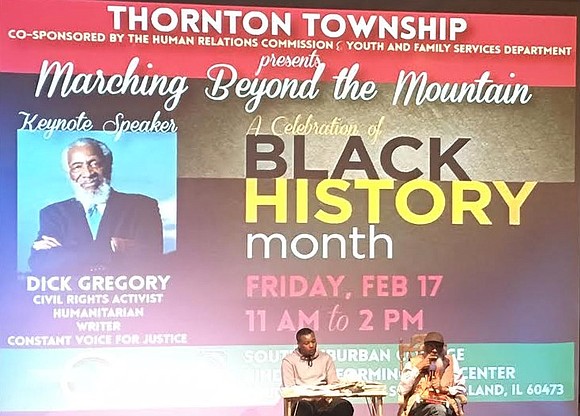 Civil Rights Activist Dick Gregory Delivered The Keynote Address During Thornton Township 10th Annual Black History Month Celebration
Dick Gregory walked to the front of the stage, sat down and began speaking to the crowd about the importance of knowing your history.
"We can't just sit around and believe the things other people tell us. You have to understand what is going on and truly learn the history of your people," said Gregory.
Gregory was the keynote at the 10th annual Thornton Township Black History Month Celebration, which was held at South Suburban College. The event featured individual and group spoken words from Thornwood High School students, vocal performances from Mark Hood, a former contestant of The Voice and South Suburban College alumni and Thornton Fractional South High School singer Noelani McComb. Almost 400 people attended the event. Gregory spoke for more than an hour in two different sessions with the crowd, giving them pearls of wisdom about American history as well as insight on their lives.
"Dick Gregory is a man who has spent his life shinning a light on social justice through his comedy, books and speeches," said Dr. Jerry L. Weems, director of the youth and adult services department at Thornton Township. "He has been a constant voice for educating people on the realities of life. We were so thrilled when he accepted our invitation to talk with the community."
Gregory is listed on Comedy Central's Top 100 Standup Comedians of all time. In the 1960s, he helped bridge African American comedy to Caucasian audiences with much success. Through the lends of irony and satire, he helped up a lens to American Society and its racial stereotypes using comedy and social action to address injustice and discrimination in American society.
"We lived through racist times when everyone was racists. If you lived in Mississippi, it wasn't just the Klu Klux Klan who were racist, the local government was racist," said Gregory. "That was why the movement was so important. We had young folks, old folks, black people and a few white people came together for the movement."
He also talked about the inner perception that people have that can ultimately be their downfall.
"You women have it all wrong believing you have to go to beauty parlors," said Gregory. "Who told you, you were ugly? I go to the dentist because I know I have a problem with my teeth and dentist is there to fix it. Nobody told you, you weren't beautiful so why do you believe that you aren't."
Thornton Township Frank M. Zuccarelli talked to the crowd about the importance of unity and working together in these divided times.
"We may all have different needs, different wants and different concerns in our lives. But the only way we can make it through tough time is staying together and making sure we look out for each other," said Zuccarelli.
He also stressed that Black History Month is more than just remembering our heroes for just one month. It's about recognizing that you can't contain the history and accomplishments of so many people in so little time.
"Unfortunately, there are so many people whose names have never appeared in our history books who added their voices to the debate and bodies to the fight," added Zuccarelli. "They stood firm, mobilized, organized and they created changes that many people thought were impossible."