THE ART INSTITUTE OF CHICAGO PAYS TRIBUTE TO GWENDOLYN BROOKS
2/15/2017, noon | Updated on 2/15/2017, noon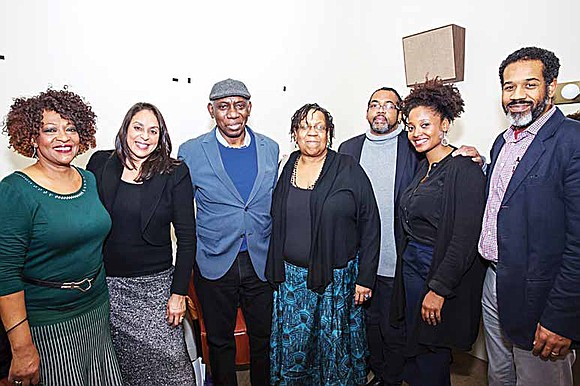 THE ART INSTITUTE OF CHICAGO PAYS TRIBUTE TO GWENDOLYN BROOKS
Our Miss Brooks 100 is an ongoing centennial celebration of the life and legacy of Gwendolyn Elizabeth Brooks. If Ms. Brooks were alive today she would be celebrating her 100th birthday on June 7, 2017.
This exhibit was kicked o™ with a special unprecedented and high-profile reading of Brooks' works. Held in the Rublo™ Auditorium at the Art
Institute of Chicago, 111 S. Michigan Avenue in Chicago.
The event brought together five Pulitzer Prize winning African American poets, all of whom expressed at some point during the evening how profound an impact Brooks' had on their life and their work as artists
and poets. Our Miss Brooks 100 honors her legacy and inspires a new generation of writers and poets.
This unique literary experience was a collective and collaborative e™ort of many institutions, artists, and educators who came together to create readings, performances, schools programs, discussions, exhibits
and more through June 2018. The special readings were hosted by WGCI's Morning Show co-host Kendra G and a panel discussion to place after the readings was hosted by WBEZ's Natalie Moore.
The poets in attendance were Rita Dove, a former U.S. Poet Laureate and recipient of the 1987 Pulitzer Prize in poetry for Thomas and Bueulah.
Dove was also celebrating the 30th anniversary of her Pulitzer. She was joined by Gregory Pardlo, a 2015 Pulitzer Prize winner; Tracy K. Smith, a 2012 Pulitzer winner; Natasha Trethewey, 2007 Pulitzer winner and Poet Laureate for the United States (2012-2014); and Yusef Komunyakaa, 1994 Pulitzer winner.
Moore asked the panel what they most admired about Brooks' work and Gregory Pardlo said, "She can read people so easily, she was so observant."
Dove began her remarks with, "Thank you Ms. Brooks!" She went
on to say, "I admire her ability to sing the songs of those around her and make them come alive to the world around her."
Komunyakaa said, "There is a singing inside each poem, I admire
that. It's as if worlds collide in a single poem." Smith remarked, "Her
sense of curiosity inspired me. Her poems are so beautifully adequate
at reaching into other's lives."
The panel went on to discuss how important the work of writers, poets and artist are during this di™erent political landscape. Dove said, "There is power in being able to communicate and touch
people all over the world in special way - that is the essence of our humanity in a time where there are those in power trying to silence the voices of the people."
A writer, poet and true lyricist, Gwendolyn Brooks as noted by the Poetry Foundation was one of the most highly regarded, highly influential, and widely read poets of 20th-century American poetry.
The Poetry Foundation and other biographical sources cite Brooks as having the distinction of being the first black author to win the Pulitzer Prize and the first black woman to become poetry consultant to the Library of Congress (a title and position which is now known as the Poet Laureate).