ART EXAMINES THE STATE OF BLACKNESS
2/15/2017, noon | Updated on 2/15/2017, noon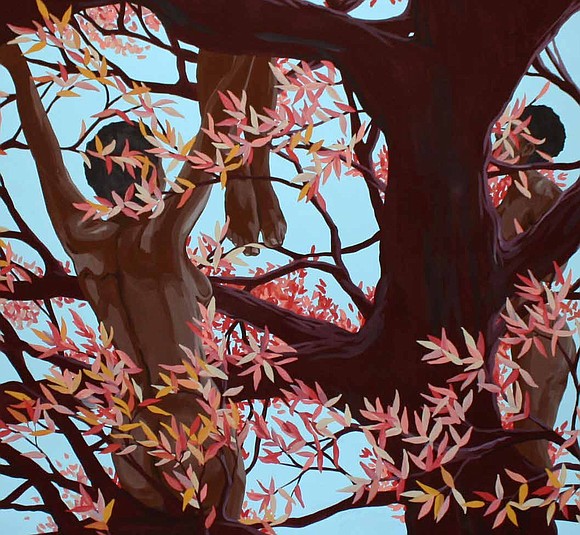 Art Examines the State of Blackness
By Christopher Shuttlesworth
Northwestern University will celebrate Black History with multiple events throughout this month including a showcase that features new 20th century landscape art entitled "Neither Free | Nor" by Artist Brittney Leeanne Williams Feb. 16, 2017 at the Dittmar Memorial Gallery, according to a Northwestern University's press release.
Williams said the overarching theme "Neither Free | Nor" will
focus on the conflict between the African American and White community and show how placing both communities in the same setting causes a rising tension amongst individuals and ultimately forces them to reconcile their di™erences that were never addressed.
Williams explained in our interview that during the 20th century, white male artists made their own ideal image of what was an acceptable, pleasing and visually assimilating fine arts painting. So, she decided to take those particular images and place black narratives like lynching and other violent scenarios in those particular paintings.
"To me taking the black narrative and setting it by the white narrative causes a tension that disrupts a sense of comfortability and forces people to look at the state of blackness and at the state of what has historically happened in our nation," Williams said. "At the same time the [black images] shift the conversation and victimization to memorialization and honoring the black body, which has had [so much] violence [done] against it."
Williams said she understands the importance of pausing in the month of February to celebrate Black History Month, but strongly
believes that black people and their history deserve far more recognition.
"We [as citizens] know that for 365 days a year there are devastating narratives about blackness and black people," she said, adding, as a society, we should focus on Black History all year around.
Williams said she is excited to have a solo art exhibition at Northwestern University. She said after contemplating on what to name the show, she finally made the decision on the title "Neither | Free Nor,"
after reading a particular Bible verse.
"It actually comes from a Bible verse in Galatians [3:28]," she said. "[The bible verse] focuses on how the body and soul is neither Jew nor
Gentile, neither slave nor free and neither male nor female, but all in [Christ Jesus]" Williams said her 20th century landscape paintings are created through what she identifies with, what her narrative is and more importantly, expanding on her thoughts in two dimensional frames that send clear messages to her viewers.
"My main desire is for people to be challenged by my two-dimensional paintings and for the gallery to be a space of healing, exchange, dialogue and an encouragement space where people can see not just a show with pieces on a wall," she said. "But [my]
ideas and concepts [which will] make them think about black history and black people."
Williams' current showcase "Neither Free | Nor" will stay open to the public seven days a week from 10 a.m. to 10 p.m. until Mar. 28 at the Dittmar Memorial Gallery. For more information you can
visit http://www.northwestern.edu/norris/arts-andrecreation/ dittmar/index.html.