Marching Beyond the Mountain
2/13/2017, 11:44 a.m. | Updated on 2/13/2017, 11:44 a.m.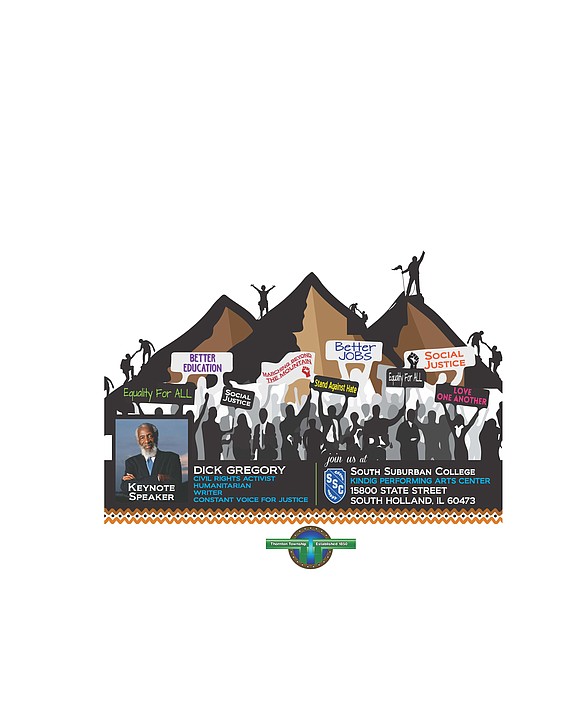 Marching Beyond the Mountain
Thornton Township presents Marching Beyond the Mountain: A Black History Month event featuring civil rights activists, comedian and writer Dick Gregory. The event, which is co-sponsored by the Human Relations Commission and the Youth and Adult Family Services Department, takes place from 11 a.m. to 2 p.m. Friday, February, 17 at the Kindig Performing Arts Center at South Suburban College.
"We are proud to bring a man like Dick Gregory to our Thornton Township program. He has been a voice for a generation continuously fighting for social justice and equality," said Dr. Jerry L. Weems, director of the youth and adult family service department at the township. "Whether he is bringing insightful comments through comedy, his books or just speaking directly to people, he has been an important American figure in so many ways."
Gregory has lived a life far from ordinary. He is listed on Comedy Central's Top 100 Stand-Up Comedians of All-Time, and in the 1960s helped bridge African-American comedy to Caucasian audiences with much success. After the 1998 birthday commemoration for Dr. Martin Luther King, Jr., then U.S. President Bill Clinton said, "I love Dick Gregory, he is one of the funniest people on the planet."
Gregory began performing comedy while in the U.S. Army in the mid-1950s. By using irony and satire, he held up a lens to American society and its racial stereotypes, using comedy and social action to address injustice and discrimination in American society.