The HistoryMakers and Chicago Public Library Celebrate African American History Month and Announce Free Access to Nation's Largest African American Video Oral History Archive
2/8/2017, noon | Updated on 2/8/2017, noon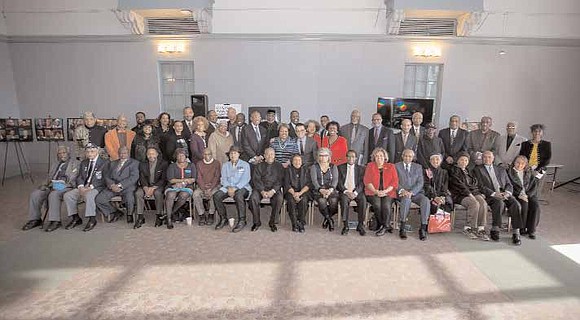 for construction until late 2017). Notable archival collections
include The Congress of Racial Equality, Chicago Chapter;
Timuel J. Black, Jr. Papers; and the Rev. Addie and Rev. Claude
Wyatt Papers.
" Rev. Clay Evans Archives: In February 2016,
Mayor Rahm Emanuel and CPL announced that the African
American pastor and founder of Chicago's influential Fellowship
Missionary Baptist Church would be donating his archives to
CPL. The collection, which documents Rev. Evans' 50 years of
leadership, his civil rights commitment and work with Dr. King, his
pioneering radio and television broadcasting
and his contribution to Gospel
music, will be featured in an exhibit
coming in late 2017.
Anyone with internet access can visit
the archives at www.thehistorymakers.
com and read more 2,000
HistoryMaker biographies. Over a 17
year period, 500 of those interviewed
for The HistoryMakers Collection came
out of Chicago, including President
Barack Obama, while he was still an
Illinois State Senator; CPL board member
and early education expert
Barbara Bowman; and CPL board
president and Johnson Publishing
Chairman and CEO Linda Johnson
Rice.
About The HistoryMakers
The HistoryMakers, a 501 (c) (3) national
non-profit organization headquartered
in Chicago, Illinois, is dedicated to recording and preserving the
personal histories of well-known and unsung African Americans.
It is the largest video oral history archive of its kind, and the only
massive attempt, since the WPA Slave Narratives of the 1930's,
to record the African American experience in the first voice. In
2014, The HistoryMakers Collection became a permanent part
of the Library of Congress. To date, the organization has interviewed
over 2,700 HistoryMakers, with the goal of creating an
archive of 5,000 interviews (30,000 hours) for the establishment
of a one-of-a-kind digital archive. The HistoryMakers Digital
Archive-which makes the entire collection accessible and
searchable online-has users in 51 countries across the globe
from Afghanistan to Norway, Nigeria and China. For more information,
visit The HistoryMakers website at www.thehistorymakers.
com and The HistoryMakers Education page at
http://www.thehistorymakers.com/education.
About Chicago Public Library Since 1873, Chicago Public
Library (CPL) has encouraged lifelong learning by welcoming all
people and offering equal access to information, entertainment
and knowledge through innovative services and programs, as
well as cutting-edge technology. Through its 80 locations, the
Library provides free access to a rich collection of materials, both
physical and digital, and presents the highest quality author discussions,
exhibits and programs for children, teens and adults.
CPL received the Social Innovator Award from Chicago
Innovation Awards; won a National Medal for Library Services
from the Institute for Museum and Library Services; was named
the first-ever winner of the National Summer Learning
Association's Founder's Award in recognition of its Summer
Learning Challenge; and was ranked number one in the U.S.,
and third in the world, by an international study of major urban
libraries conducted by the Heinrich Heine University Dusseldorf
in Germany. For more information visit www.chipublib.org.