The HistoryMakers and Chicago Public Library Celebrate African American History Month and Announce Free Access to Nation's Largest African American Video Oral History Archive
2/8/2017, noon | Updated on 2/8/2017, noon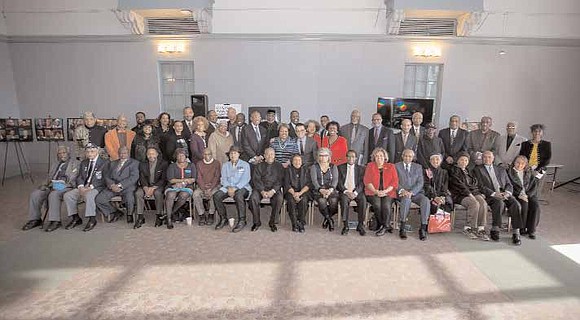 The HistoryMakers and Chicago Public Library Celebrate African American History Month and Announce Free Access to Nation's Largest African American Video Oral History Archive
February 2, 2017 - Deputy Mayor Andrea Zopp
joined Chicago Public Library (CPL) Commissioner
Brian Bannon and The HistoryMakers Founder &
Executive Director Julieanna Richardson today to
kick off the start of African American History Month
and announce CPL's offering of The HistoryMakers
Digital Archive free of charge. Since 1999, The
HistoryMakers has been recording African American
oral histories to refashion a more inclusive record of
American history. The HistoryMakers is committed to
preserving and making widely accessible the personal stories of
African Americans-both well-known and unsung. Offering the
most significant recording of past and present African American
influencers, The HistoryMakers is a vital online resource for the
city's students, educators and researchers.
Chicago Public Library is the first public library to of fer patrons
unlimited access to the extensive HistoryMakers video database
of interviews with more than 1,700 African Americans. By the end
of 2017, the collection is slated to house 2,700 interviews of primary
source material. Full remote access to the entire
HistoryMakers database through the CPL website (with a library
card) is slated to start this spring.
"There isn't a better way to kickoff African American History
Month than providing Chicagoans access to the experiences of
African American heroes through The HistoryMakers digital
archive," said Deputy Mayor Zopp. "This is an innovative partnership
that makes firsthand accounts and untold stories available
to the public for the first time. I'm honored to be included in
this historic archive alongside so many influencers and unsung
heroes. I encourage every resident to view the oral history of their
favorite author, artist or newfound hero."
"The hallmark of public libraries is the availability of resources
to everyone. HistoryMakers is such a valuable resource, that in
its entirety has only previously been available to students or
researchers," said Brian Bannon. "We are thrilled to make these
digital archives available to the public so Chicagoans can use
this rich resource through CPL."
"I want to applaud
Chicago Public Library
Commissioner Brian Bannon, and the City of Chicago, for making
this significant contribution to the citizens of Chicago," said
Richardson. "This is the same Digital Archive that has been
licensed by 18 of the country's top-tier universities-including the
University of Chicago and Northwestern University. It is thanks to
the vision and foresight of Brian Bannon that The HistoryMakers
Digital Archive is now available to Chicago Public Library
patrons."
The HistoryMakers is only the latest addition to CPL's rich collection of African American history and bibliographic records. The
accomplishments and experiences of some of the region's most
influential African Americans are preserved and presented via:
"The Vivian G. Harsh Collection of Afro American History and
Literature: The largest repository of African American history in
the Midwest is located in an 11,000 square foot wing of the
Woodson Regional Library (CPL's south regional library-closed