Englewood Families Receive Holiday Donations
12/27/2017, noon | Updated on 12/27/2017, noon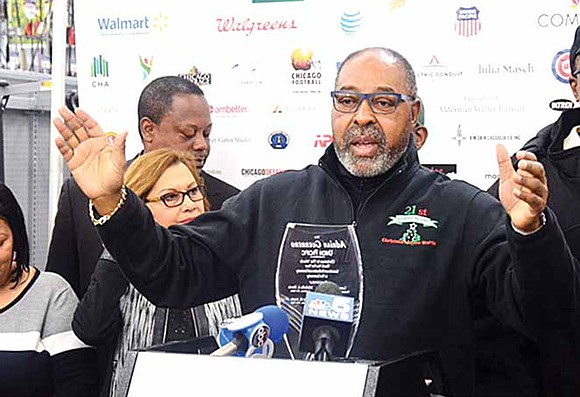 Englewood Families Receive Holiday Donations
By Christopher Shuttlesworth
As we enter a new year, Union Pacific Railroad recently gave away a $10,000 donation to the Christmas in the Wards organization, which allowed 25 to 30 Englewood families to
receive $250 to shop at Pullman Walmart during the holiday season.
Adrian Guerrero, director of public affairs at Union Pacific Railroad, said its foundation's mission is to serve communities.
"We recognize the impact that the railroad has on the communities and we wanted to give back," Guerrero said. "When we are able to support an organization like this and see the support in action is one of the best things we can ask for."
Larry Huggins, founder of Christmas in the Wards and a past resident of Englewood, said that the organization has provided gifts to 11,000 families for 21 years, and has now grown to
distribute gifts in 18 Wards.
He explained that the board is made up of business leaders, corporate leaders, political leaders and community leaders, and without the community officials identifying the people in
need in their Ward, this holiday event would have been impossible to do.
Huggins continued to add that Christmas in the Wards allows School Principals in the wards to decide which students are in need the most during the holiday.
"When these kids go to school every day, the principals know which ones who need shoes and coats," Huggins said. "So, we take the politics out of it because it's truly a genuine need and
the aldermen just come out to help with the shopping."
Principal Rufina D. Brown at Parker Community Academy, said after speaking with local teachers, they selected a family with a mom who recently got out of the hospital from an illness and was unemployed in a new apartment.
"She cried like a baby but she said Ms. Brown 'this is something that I really wanted,' Brown said. "So, the process was worth it."
Alderman Roderick Sawyer of the 6th Ward, who donated $2,500 to Christmas in the Wards, said it feels great to give back to residents in the community.
"I really fill strong about this and I'm glad that Larry and others were able to reach out to us to provide for the families to get a shopping experience," Sawyer said.
Keith Harris, a representative for PEACE in Englewood, said he has worked in the neighborhood for 25 years and says it's really important to see smiles on the faces of youth, especially when they notice someone cares about them.
"Englewood gets such a bad reputation but this is one of the positive things that will shine on the community and its families," said Harris.
For more information, visit https://www. christmasinthewards.com/.