2017 YEar in review
From politics, to community, to news about entertainment, fashion and other current events, here's a roundup of the people, places and things that made news in 2017.
12/27/2017, noon | Updated on 12/27/2017, noon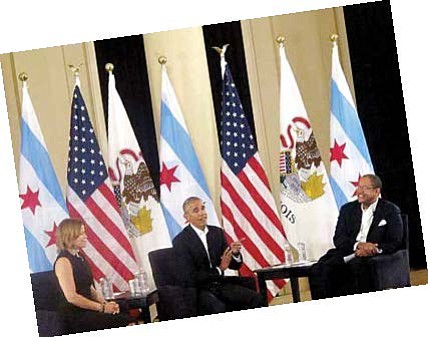 2017 Year in review
From politics, to community, to news about entertainment, fashion and other current events, here's a roundup of the people, places and things that made news in 2017.
In January, the Citizen celebrated the life and legacy of Dr. Martin Luther King Jr. in a feature entitled MLK: MILITANT OF THE 21ST CENTURY where Lee A. Daniels discussed Dr. King's command for individuals to live up to humanity's best possibilities and how that command has become particularly compelling again because of
the remarkable juxtaposition of present day developments. Daniels' article included a timeline outlining important developments during King's lifetime and the milestones which made this iconic civil rights leader great.
Turning its attention to Black History Month in February, the Citizen
recognized the achievements of African Americans in agriculture, business, medicine, science and other fields.
Calvin Flowers, an inventor who created Tel-Loc, a company that
produced his Security Jack products was highlighted. The invention locks touch tone phones and internet services. Flowers' business sold more than $1 million worth of products to Walgreens.
Also during Black History Month, award-winning author Art Burton,
a retired South Suburban African American History Professor, hosted
a Black History Month lecture where he shared unknown African American history facts at the Kindig Performing Center. Burton said a number of African American pioneers who people may not
know include Jim Beckwourth, a famous African American mountain man.
Beckwourth, played a significant role in the early settlement in the western region in America and was the only African American pioneer to write a novel on his travels 'from the everglades of Florida
to the Pacific Ocean and from southern Canada to northern Mexico.
During the month of March, the Far South Community Action Council (FSCAC), local parents and Illinois State Representatives held a press conference at Corliss Early Stem High School to show their concern over a lack of funding in Chicago Public Schools.
As the FSCAC fought for quality education for local students, three-time Grammy Winner Chance the Rapper, announced the winners of the 2017 Bud Billiken Royal Court on Mar. 25, 2017 after a private movie screening at the newly remodeled Studio Movie Grill ("SMG") theatre, 210 W. 87th St.
In April, during the celebration of its 52nd anniversary, the Citizen
looked back on the history of some of the neighborhoods it covers. The conversation turned to a discussion about the migration of blacks from the south to the north with North Central College History Professor Ann Keating pointing out that by 1970, African Americans constituted 33 percent of Chicago's population.
Former President Barack Obama and First Lady Michelle Obama hosted a community event on May 3, 2017 at the South Shore Cultural Center, where the Obama Foundation released the conceptual vision and site map for the Obama Presidential Center.
As local entrepreneurs joined in on the race for Illinois Governor, U.S. Rep. Bobby Rush endorsed Chris Kennedy as the next governor of Illinois in June 2017, saying Kennedy would bring "radical change" to state government with a focus on helping the middle class and poor families who have been neglected under Governor Bruce Rauner.