Ujima Village Shelter Suffers Fire, Organizations Donate Resources
12/20/2017, noon | Updated on 12/20/2017, noon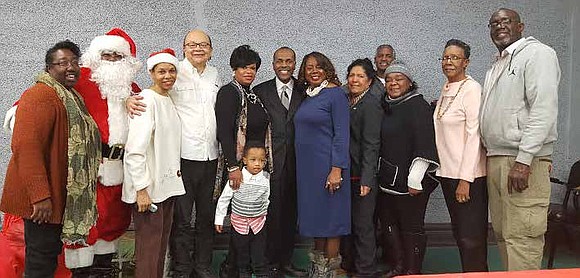 Holcomb said she is optimistic that the Ujima Village Shelter
will open soon and the shelter is still collecting necessary items like
hygiene products for the less fortunate youth.
Chesterfield Community Council (CCC), a nonprofit community-based organization, recently celebrated their Annual Holiday Party, and contributed winter clothing and hygiene products to Ujima Village Shelter.
"Most of us woke up this morning with having to decide the first thing that we were going to put on," CCC Representative Eli Washington said. "But these kids knew what they were going to put on because they only had one outfit to put on…the clothes on their back."
Holcomb said as a former homeless youth, she knows how difficult this time of the year can be for youth and said one gift from organizations like CCC can help lift their spirits during the holiday
season.
"Imagine one of these kids seeing the television advertisements
in store windows but none of it is for you," she said. "It's just amazing that we can give the youth something like a Christmas. It says a lot to a young person's self-esteem…that they're worthy of getting a gift on a holiday when they don't have anyone else."
Washington said in the past, CCC hosted toy drives but Washington said in the past, CCC hosted toy drives but it wasn't
as fulfilling because more people are struggling to get day-to-day
basic, survival items.
"We have to continue to support kids because they're going
through difficult times right now versus when I came up," he said.
"We didn't have online, social media bullying and we also didn't have young mothers who had kids at young ages but didn't have the right parenting skills. So, it's really important for adults to grab ahold to these kids and support them to the best of their ability."
For more information, visit http://unityparenting.