Ujima Village Shelter Suffers Fire, Organizations Donate Resources
12/20/2017, noon | Updated on 12/20/2017, noon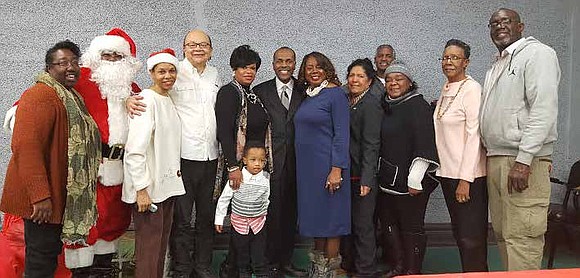 Ujima Village Shelter Suffers Fire, Organizations Donate Resources
By Christopher Shuttlesworth
Unity Parenting & Counseling opened the Ujima Village Shelter as an overnight homeless center for high school and college teens on
Aug. 19, 2013, but the center suffered a fire this year in the south wing of their building and now local organizations are helping the shelter recover with donations.
Supportive Services Supervisor Anne Holcomb explained that initially, before the fire damaged the south wing of the Ujima Village
building, the shelter's doors opened from 8:15 p.m. to 8:30 p.m.
each night and allowed 24 youth to come inside. But now the shelter,
which is temporarily operating in the center wing of the building
where the senior center functions, can only take in 13 youth during
the 15-minute period because of the lack of beds and resources.
Holcomb said the south wing of their building, located at 7320
S. Yale, was badly consumed by the fire, melting the plumbing and
resources in the basement and caused smoking, heating damages on
the first floor.
"I mean it really burned downstairs," she said. "The ceiling, walls, structural beams, appliances and dining room tables all melted downstairs."
Holcomb continued to explain that the local fire department ruled everything out including arson and tobacco but they found a couch leaning next to a wall outlet that was being used, which caused the
couch to catch fire, spreading to the basement and first level of
the building.
"The flames jumped to the next couch and then the structural part of the ceiling," she said. "The heat of the fire was so intense that it melted the appliances so we lost a washer; two dryers; a stove; a
refrigerator; microwaves and tables." Holcomb said she tried to take photos of the fire damages but the heat from the fire was too much to
bear at times.
"When I first got in there, 12-16 hours after the fire was put out,
the heat was still in the wall from the flames," she said. "I was trying to take pictures for insurance purposes but it was so hot that I couldn't take more than one photo because my photo was getting overheated."
ServePro South Chicago donated $10,000 worth of pro bono services to fix the smoke and heating damages, which is now
completed, according to Holcomb.
"The plumbing has been restored and the sleeping rooms are nice and clean now," Holcomb said. "You can't even tell that there was
ever a fire."
Unfortunately, the Ujima Village Shelter still has to wait until the building landlord, the fire marshals and building inspector are all
satisfied with the rehab of the south wing of the building and agree
that it's safe to resume normal operations.
"We would love to move back in right now but we're not in control of that," Holcomb said. "The smoke is out of the facility, the utilities are working and we bought new mattresses. But the building landlord said there is more stuff that she has to take care of with the fire marshal and building inspector."