State Attorney Kim Foxx Speaks at CBA Meeting
12/20/2017, noon | Updated on 12/20/2017, noon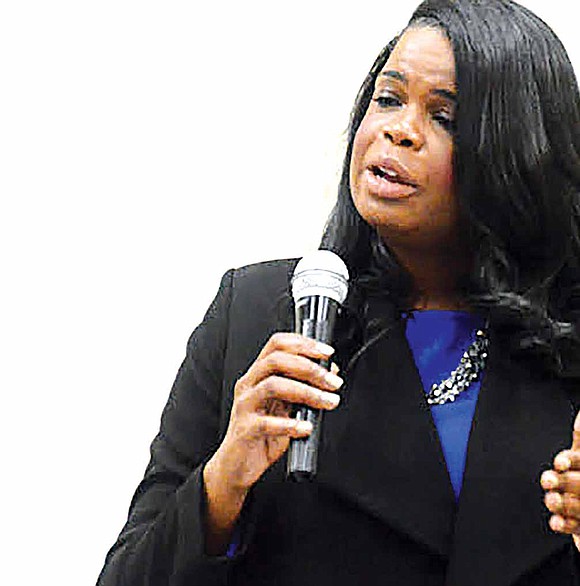 State Attorney Kim Foxx Speaks at CBA Meeting
By Christopher Shuttlesworth
The Chatham Business Association (CBA) recently held a meeting with the first African American woman to lead the Illinois Cook County State Attorney's Office, Kimberly Foxx to discuss different ways small businesses can better advocate and serve former felons interested in
entrepreneurship skills or job training.
During the CBA meeting, Foxx said the small business community needs to be proactive in having more honest conversations about whose in the Criminal Justice System and why.
"Chicago makes up half of Cook County and the African American and Latino population in the County sums up to 50 percent," she said.
"The County jail [located at] 2700 S. California Ave, is 86 percent African American or Latino and the Juvenile Temporary Detention Center is about 93 percent African American or Latino."
Foxx continued to explain that minorities such as African Americans aren't predisposed to crime but there are a number of factors that go into violent crimes in the city, which high unemployment remains as one of the top factors.
"When we do a heat map of the neighborhoods with the highest levels of violence, they also have the highest unemployment, the lowest education obtainment and are lacking in resources due to living in food deserts; the lack of public health resources, addiction, counseling and mental health services," she said.
Foxx highlighted that 90 percent of the people who come out of the Criminal Justice System come back to their local neighborhoods and 55 percent become repeat offenders.
"The question becomes if they're coming back to our neighborhoods with the inability to get jobs and an education, then what makes us think that we're going to be safe," Foxx asked? That means we have to work together on ways to respond to those who are vulnerable in our community, those returning from the Criminal Justice System."
She suggested that more small businesses develop the mentality of advocating and investing in the community so individuals with records and without records have better opportunities.
"We have to take a chance as small businesses and hire people who come out of the Criminal Justice System," Foxx said. "I, as a prosecutor, am asking you to hire people who my office has put in prison because it is an aid of public safety.
People who are able to provide for their families are less likely to knock someone upside the head for their wallet."
Melinda Kelly said the CBA has been working with the Department of Corrections and through private funds by Governor Bruce Rauner's Office, will soon launch a pilot program where they will attend State prisons and teach inmates entrepreneurship skills.
"We think this is a way to keep them out of the streets," Kelly said. "We think this is a way that they can connect us to the independent, economic community that sometimes you can't compete with a program."
She continued to say that she is really excited about the pilot program because it will offer entrepreneurship courses, help individuals develop business plans and offer a $50,000
seed fund for their business.
"In order for us to put these types of policies in place, it requires for us to be in reactionary spaces and work with small businesses on the community level in a proactive space," Foxx said.
For more information, visit http://www.cbaworks.org/.