Ruins of Pilgrim Baptist Church Will Become National Museum of Gospel Music
12/20/2017, noon | Updated on 12/20/2017, noon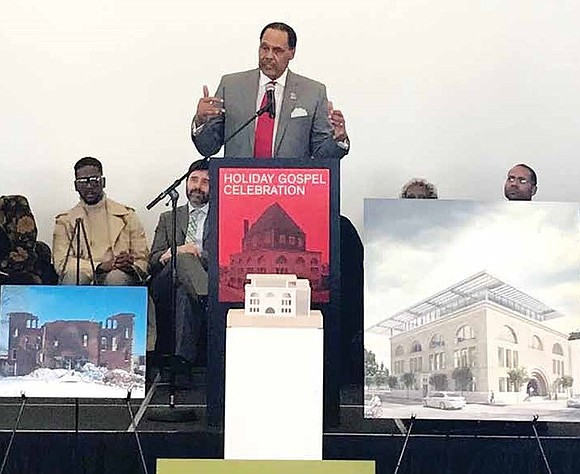 Ruins of Pilgrim Baptist Church Will Become National Museum of Gospel Music
By: Katherine Newman
It was announced in a press conference on Dec. 6 that the corner of 34th and Indiana, where Pilgrim Baptist Church once stood, will become home to the National Museum of Gospel Music. The project is lead by Don Jackson, CEO of Central City Productions and founder of the Stellar Gospel Music Awards, and designed by Chicago architect Dirk Lohan.
"The light bulb came on when I was in Pilgrim and walking through the ashes over there," said Jackson. "There is a lot of synergy, Chicago is the birth place of Gospel Music, Thomas A Dorsey is the father of gospel music, Pilgrim Baptist Church has done a great job creating this genre of Gospel Music and we do the Stellar Gospel Music Awards, and I was chairman of the DuSable Museum for some 11 years so I know a little bit about the museum industry and that was enough to get us started."
Set to open in September of 2020, the museum will preserve the exterior walls of Pilgrim Baptist Church to create a new modern structure.
"We will not restore or rebuild the church exactly the way it was, but we will build a new contemporary modern museum with a performance space that is shaped and formed very much like the original space in the church," said Lohan. "We will preserve the old walls to be admired not only from the outside but also to be seen from the inside."
Pilgrim Baptist Church has sat in ruins since 2006 after a fire destroyed almost all of the structure leaving only the exterior walls to represent the space that many people regard as the home of gospel
music.
"I stood on the corner of 34th and Indiana on that cold day watching in despair as Pilgrim Baptist Church was burning," said Alderman Pat Dowell. "I can recall on that day having members of the church walk up in disbelief and just crying."
Alderman Dowell, 3rd ward, has been instrumental in getting support from the city for the project and vowed to make sure that every resource the city has to offer is utilized on this project.
"I know that this proposal coming to fruition adds another
key asset to our community for historic and heritage tourism" said Dowell. Not only is Dowell motivated by the draw that the new
museum will create for tourism in Bronzeville, but even more
so because there is "a hole in our landscape that has not been
filled" since the fire at Pilgrim.
As a freshman in college at the Illinois Institute of Technology, Lohan lived about a block away from Pilgrim Baptist Church. He remembers taking walks with his friends past Pilgrim and hearing the gospel music that was being preformed inside. He acknowledges this as his first exposure to gospel music some sixty years ago.
"On Sundays, and even Saturdays when they were rehearsing, there was fantastic music coming out of [Pilgrim]," said Lohan. "We walked in for the first time and we were so captivated by this optimistic, vital, and joyous music that we came several times."
Since then, Lohan has been building a career as an architect in Chicago. He has done a number of preservation related building projects.