New Market Rate Housing Construction Begins Leasing in Woodlawn
12/20/2017, noon | Updated on 12/20/2017, noon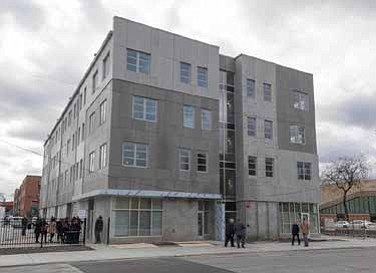 New Market Rate Housing Construction Begins Leasing in Woodlawn
By: Katherine Newman
The Trianon Lofts, a new four-story apartment building in Woodlawn, offer affordable housing along with market rate apartment pricing and are currently leasing. This is the first new market rate housing construction in this neighborhood in over forty years.
"We are trying to simultaneously do two things. We are trying to create and preserve as much of the affordable housing that exists in Woodlawn as possible, while at the same time trying to help develop a market for market rate housing," said William Eager, Vice President of the Preservation of Affordable Housing, Inc. (POAH) for the Chicago Area.
"So in the end the community will have both a mix of pure market rate and affordable housing so hopefully in the long run you have a balanced mixed income community."
POAH is a affordable housing nonprofit with offices in Chicago, Boston and Washington, D.C. The building offers half of it's units at market value, 5 units are available as fifty percent Area Median income(AMI), a measurement used to set rent levels in Chicago, and 7 are available at eighty percent AMI.
"It's a metro area measure, so the median income for a two person household is about $60,000. half of that is roughly $30,000 and eighty percent is around $48,000 so thats kind of the range on the affordable units," said Eager.
Residents are just beginning to move into the new building and about fifty percent of the units have been leased, according to Eagar. He expects all of the units to be leased by the end of February.
"I think Cottage Grove is a very different place than it was 10 years ago, its more stabilized and it's safer. I think people are beginning to see other possibilities for Cottage Grove and the blocks around it," said Eager.
"Woodlawn is really on the verge of some economic growth that will serve both market rate people and people of more limited incomes."
For more information on leasing at Trianon Lofts visit poah.org.