Founder Says Iris Botanicals Restores Natural Hair
12/20/2017, noon | Updated on 12/20/2017, noon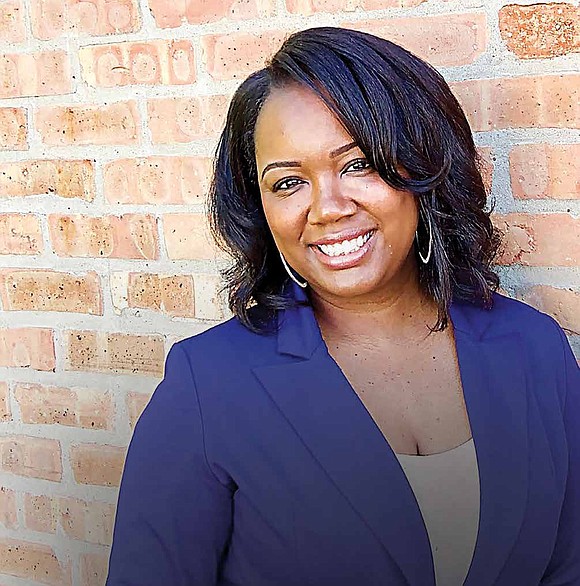 Founder Says Iris Botanicals EDUCATION Restores Natural Hair
By Christopher Shuttlesworth
Iris Patterson, founder and creator of "Iris Botanicals," an all-natural hair and skincare product line in Chicago, recently shared with the Citizen on how losing her natural hair helped her develop a hair product that not only grew her natural hair back but now helps
women and men of all backgrounds do the same.
During the Citizen's interview, Patterson explained that a few months before her 2014 wedding, she was taking workout sessions that always resulted in her natural hair turning into an afro.
As she grew tired of her hair turning into an afro, Patterson
decided to research an online hair stylist to buy a quick weave.
"I received this beautiful quick weave but after three weeks, I felt
it was time for me to get a fresh new look," said Patterson.
She continued to explain that she made an appointment with
the hair stylist and says that's where her hair disaster all began.
Patterson explained that quick weaves, like the one she originally had, are generally removed by being soaked off by a shampoo
girl because the weave is so tightly bonded to the head.
She said although women wear stocking caps to protect their natural hair, the glue still wets through the stocking cap and bonds to the hair.
"The shampoo girl impatiently decided to not let the quick weave
soak off properly," Patterson said.
"Irresponsibly, she sped up the process by pulling the trax attached to the stocking cap, which was attached to my natural hair and I then began hearing tears."
She continued "I'm thinking it was just the bond tearing but a few weeks later, I discovered that I had no hair under my glue-in. So, I pulled back the trax and soaked the stocking cap off and found out that I had a receding hairline, similar to Late Actor Sherman Hemsley who played George Jefferson."
Patterson said after she cried, she texted the hair stylist but said there was no apology or admission given to her, which resulted in Patterson wearing wigs to bed so her fiancé wouldn't see her hair
disaster.
"I was like, man should I go after her,'" Patterson said. "I had no idea where to go or what to do. A lot of times, women don't have the answers so we just cover up the [bald spots] with more trax or wigs. The hair stylists who mess our hair up don't have the education to reverse the mess so the women continue wearing weaves or wigs for life."
But Patterson said she was determined to grow her natural hair
back and as a massage therapist she furthered her knowledge on essential oils and how they benefit hair skins.
"I decided to take essential oils and make it more concentrated because I wanted to see quick natural hair results," she said. "I did months of research on all of the benefits of essential oils and I sparked enough growth where I was able to walk down my wedding aisle and feel beautiful."