CELEBRATE KWANZAA AT THE DUSABLE MUSEUM
12/20/2017, noon | Updated on 12/20/2017, noon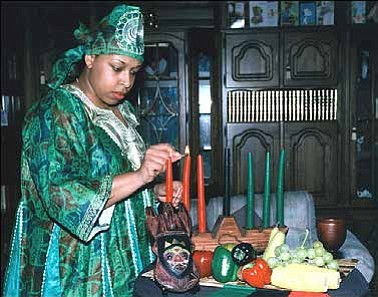 CELEBRATE KWANZAA AT THE DUSABLE MUSEUM
Chicago, IL. - The DuSable Museum of African American History in collaboration with the Bolozi Wazee/ Shule Ya Watoto (Council of Elders) is hosting a two-day Kwanzaa Observance Program, on Tuesday, December 26, 2017 and Wednesday, December 27, 2017 from 12:00 NOON until 2:30 PM, each day. The event will include
cultural activities, the Kwanzaa ritual, and 'Edutainment.'
The theme for this year's celebration is, "Remembering Our Ancestors and Building on Their Legacies." The event will take place at
the Museum, located at 740 East 56th Place (57th Street and South
Cottage Grove Avenue) in Chicago.
Each day the program will begin with the Drum Call at 12:00
NOON, and open with the Kwanzaa Ritual, and an explanation
of the Principle for the day. The goal of the collaboration is
to increase public participation in practice and understanding of the Kwanzaa celebration, and to bring families together to honor our Ancestors, become grounded in our history and to celebrate our collective achievement as an Afrikan People.
Some of the scheduled performers includes: Najwa Dance Corps; Thunder Sky Drummers; Armen Rah; Sax Preacher; Spirits; Maggie Brown and Fred Baker; and the West Indies Dance Group.
Established in 1966 by Ron Karenga, Kwanzaa aims to reconnect Black America to their African roots and recognize their struggle as a people by building community.
It is observed from December 26th through January 1st annually. Derived from the Swahili term, "matunda ya kwanza," which means "first-fruits" Kwanzaa is based upon African harvest celebrations. Just as many African harvest celebrations run for seven days, Kwanzaa has seven principles known as the Nguzo Saba. They are: umoja (unity); kujichagulia (self determination); ujima (collective work and responsibility); ujamaa (cooperative economics); nia (purpose); kuumba (creativity); and imani (faith).
Admission to the 2017 Kwanzaa Celebration is FREE for all. Regular
admission prices apply for visitors wishing to experience the Museum. Please call 773-947-0600, or visit www.dusablemuseum. org for more
information.