100BMC Holiday Toy Drive Uplifts Women, Children
12/20/2017, noon | Updated on 12/20/2017, noon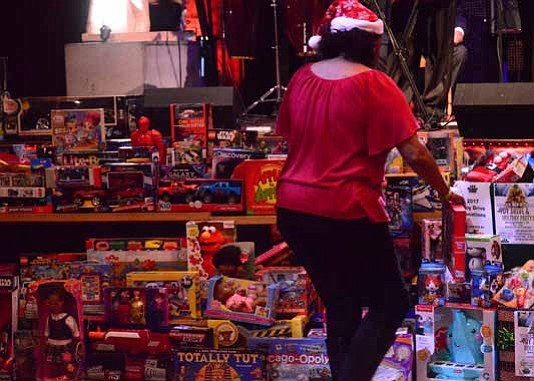 100BMC Holiday Toy Drive Uplifts Women, Children
By Christopher Shuttlesworth
The 100 Black Men of Chicago, Inc. (100BMC), a mentorship program, recently hosted its 16th Annual Toy Drive & Holiday Party, at the Alhambra Palace Restaurant, and donated a 1,000 toys
and supplies to women and children in homeless shelters, community outreach organizations and health centers.
100BMC Board President Carl Tutt said the 16th Annual Toy Drive & Holiday Party was meant to make Christmas a joyous time for
individuals because in a lot of cases, it's not for some families.
"This is the time where people get depressed or in some cases, they become suicidal," Tutt said. "So, we try to bring cheer
into peoples' lives, especially young people, and participate in [giving back] to women shelters in the area because they are not receiving joy as well."
He continued to say that in some cases, there are women who have children with just clothes on their backs. So, Tutt said the toys just don't go to them but 100BMC takes the momentary donations
they receive during the toy drive to buy scarfs, hats, coats, toothbrushes and more.
"We buy things that the women and children didn't have when they left their situation," Tutt said. "When you go on a drop off and you see a little child who was fearful, smile and have a toy for Christmas when they thought they weren't going to have nothing, then that's what fills your heart."
Admission to the event was $25.00, or a new unwrapped toy, clothing item, or gift valued at $25 or more. Tutt explained that the toys, clothes and supplies will be donated to 14 organizations.
"This is the fun part where people enjoy themselves and are able to give," he said. "The real work starts when we begin to separate the toys and figure out the organizations to donate to; the age
groups; the kids' sizes and delivery and date times."
Since its inception in 1994, the 100 Black Men of Chicago, Inc. (100BMC), a Mentor Illinois 2016 Gold Star Award Recipient, has worked to enhance the lives of families who live in socially or
economically underserved communities.
"This is who we are," Tutt said. "Part of our pillar is Health and Wellness and this is one of the best things that we felt that we could do to give back to the community and make someone happy
during this time of the year."
For more information, call or visit http://100bmc.org/.