Poe Elementary Receives 2017 National Blue Ribbon School Award
Congresswoman Kelly congratulates school on its success
12/13/2017, noon | Updated on 12/13/2017, noon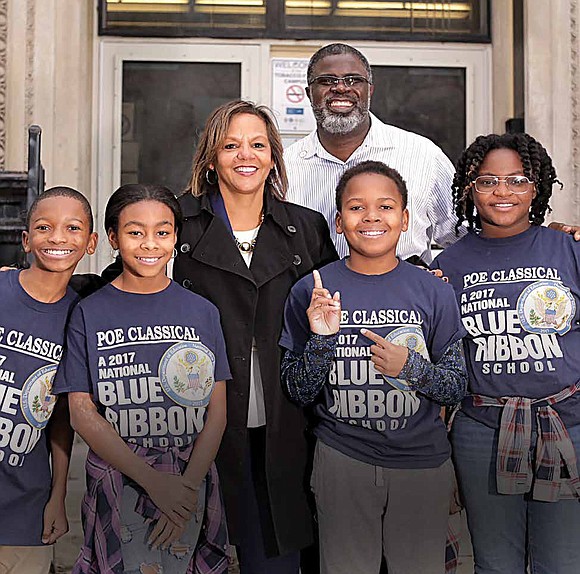 Poe Elementary Receives 2017 National Blue Ribbon School Award Congresswoman Kelly congratulates school on its success
Edgar Allan Poe Classical Elementary School was one of 342 schools recently recognized as a National Blue Ribbon School for 2017.
The recognition is based on a school's overall academic performance
or progress in closing achievement gaps among student subgroups.
The National Blue Ribbon Schools Program honors public and private elementary, middle and high schools where students achieve very high learning standards or are making notable improvements in closing the achievement gap.
Now in its 35th year, the National Blue Ribbon Schools Program has bestowed
recognition on more than 8,500 schools.
In November, the Secretary and the Department of Education celebrated with
the honorees at an awards ceremony in Washington, D.C.
All schools were honored in one of two performance categories, based on all student scores, subgroup student scores and graduation rates.
Exemplary high performing schools are among their state's highest performing schools as measured by state assessments or nationally normed tests.
Exemplary achievement gap closing schools are among their state's highest
performing schools in closing achievement gaps between a school's subgroups and all students over the past five years.
Poe was recognized as an exemplary, high-performing school.
"It is a tremendous honor for Edgar Allan Poe Classical Elementary School to be named a 2017 National Blue Ribbon School for exemplary high performance," said Eric Dockery, principal at Edgar Allan Poe Classical Elementary School.
"It's almost unimaginable that our little school, located in the Pullman Community on the southside of Chicago is counted among the top
schools in the nation.
We are extremely proud of this accomplishment," he added. "It validates the innovations that we have implemented in ourschool, and it inspires us to work
even harder to create the best educational experience for our students," Dockery stated.
Achievement is the school's highest priority, he said, adding, the school believes students need to be more prepared for success in the 21st Century.
Leadership and service are additional pillars of the school's mission. "We act locally, but think globally," he said.
Up to 420 schools may be nominated each year while the Department of Education invites National Blue Ribbon School nominations from the top education official in all states, the District of Columbia, Puerto Rico, the Virgin Islands, the Department of Defense Education Activity and the Bureau of Indian Education. Private schools are nominated by The Council for American Private Education (CAPE), according to a released statement.
Congresswoman Robin Kelly recently paid a visit to Edgar Allan Poe Classical Elementary School to congratulate parents, students and staff on earning the 2017 National Blue Ribbon School award. Only 25 Illinois schools received the prestigious honor in 2017 and according to Kelly, the award proves Poe is moving in the right direction.
"Poe is forward-thinking and has designed a curriculum that's successfully preparing students for 21st Century careers," she said.
The school has, "created a real school community," she added, "where parents, faculty and staff support student success through all-embracing support for students as they work to achieve their goals."