Clergy Members Stand behind Preckwinkle in Re-election Campaign
12/13/2017, noon | Updated on 12/13/2017, noon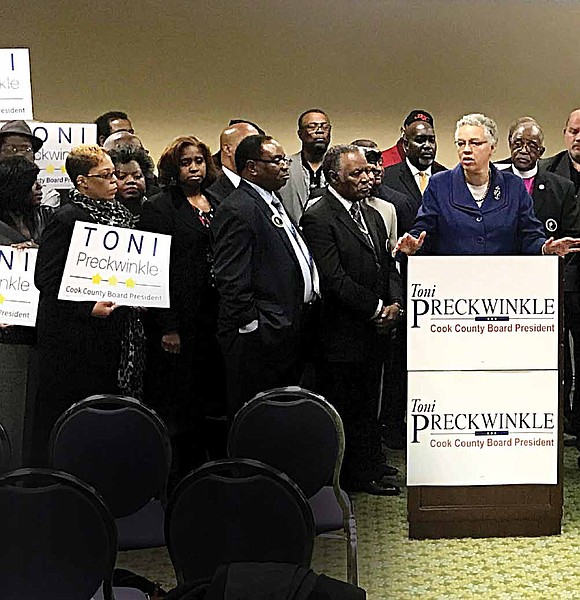 Clergy Members Stand behind Preckwinkle in Re-election Campaign
By: Katherine Newman
Faith and community leaders from across the County gathered on Dec. 7 at the Lake Shore Cafe to endorse Toni Preckwinkle, Cook County Board President, in her re-election bid. Speakers praised Preckwinkle for her strong record on healthcare and criminal justice reform.
"We are trying to make our healthcare system more sustainable and provide healthcare to those who are indigent or have health care plans that don't fit their needs or are uninsured," said Preckwinkle. "On the criminal justice side, we're trying to bring people out of the jail who are accused of crimes, not convicted, and give them a chance to go to work and go to school and support themselves and their family."
Several clergy members gathered in the Kenwood Conference Room at Lake Shore Cafe to stand behind President Preckwinkle and show support for her re-election campaign. Several people spoke about the accomplishments and positive impact Preckwinkle has had on Cook County during her last two terms as Board President.
Dr. Phelese Binion, President and CEO of the West Side Ministers Coalition stood at the podium to speak about health care in Cook County and how it has improved under President Preckwinkle.
"In 2014, for the first time in county history, Cook County served more insured people than uninsured people through the County Care program," said Binion. "I'm one of those people, I remember, because health care is so expensive, that I suffered for a long time because I didn't want the hospital bills."
Dr. Binion experienced first hand the benefits of affordable public healthcare in the county and endorsed Preckwinkle because of it.
"I am truly in support of president Preckwinkle. I appreciate her thinking about peoples' lives and qualities of lives," said Binion.
President Preckwinkle has not only focused on health care and the criminal justice system, she has also work hard to close budget gaps for the county.
"We inherited a very difficult situation and in the last seven years we have closed budget gaps of about 2 billion. We've reduced our work force by about fifteen percent and we've reduced our debt by about eleven percent," said Preckwinkle. "We have been hard at work trying to make the county more efficient."
Reverend Dr. Leon Finney Jr., founder and CEO of Urban Broadcast Media, also stood at the podium to endorse Preckwinkle for re-election, stating, "when you add Toni to anything, anything gets better."
"Jobs for those who are structurally unemployed and denied better opportunities because of their pasts are better off because of Toni Preckwinkle. Business opportunities are better for us because of Toni Preckwinkle," said Finney. "Our senior citizens who need care and nurturing in their golden years are better off because of Toni Preckwinkle. Women all through [Cook Country] are better off because of the stance Toni Preckwinkle has taken through the years."
Rev. Finney said that from now until the primary election in March, he will be working to build a coalition to help deliver the votes across Cook County for Toni Preckwinkle.
For more information about Toni Preckwinkle visit www. tonipreckwinkle.org or www.cookcountyil.gov.