Chris Kennedy Combats Unhealthy Meals with Top Box Foods
12/13/2017, noon | Updated on 12/13/2017, noon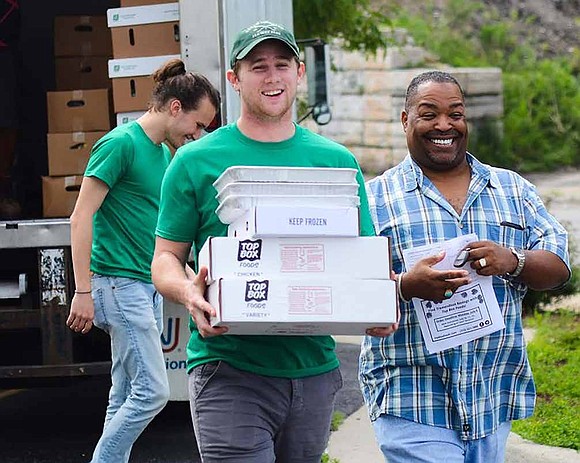 Chris Kennedy Combats Unhealthy Meals with Top Box Foods
By Christopher Shuttlesworth
Top Box Foods, a non-profit community-based organization and a year-round resource, is committed to increasing access to healthy and affordable food in food deserts with the help of neighborhood partners, volunteers and corporate sponsors.
Brian Foster, Director of Community Outreach and Marketing at Top Box Foods, said five years ago Illinois Democratic Candidate for Governor Chris Kennedy and his wife, Sheila Kennedy, felt that there was a bigger need in urban communities and decided to create Top Box Foods.
"They knew in some areas there was a group of people who might not qualify for food pantries or people who couldn't afford high food prices from Jewels or Whole Foods," Foster said. "So, there was a gap that they wanted to fill."
To fill that food gap, Top Box Foods began bringing fresh, affordable foods in food-desert communities in 2012 where people now can order online and pick up their food at a pickup site.
"People can pay ahead of time or at the site and we take Link and Supplemental Nutrition Assistance Program (SNAP)," Foster said.
"Sixty-five to 70 percent of our customer base uses these options and come get food that's usually 40 percent off of retail."
He continued to explain that Top Box Foods offers three boxes including a fruit box, garden box and a vegetable box where between 14 to 17 pounds of fresh fruit and vegetables are stored.
"We all know if you go to a store in Englewood, you can find Flamin Hots or Doritos pretty easily," Foster said. "But to find an apple, orange or fresh grapes that's good to eat, then it may take a little more research. So we're trying to bring more fresh products within these communities."
Foster said Top Box Foods offers food popups to senior centers and low-income housing to help people eat healthier, feel better physically, lower their cholesterol and essentially, replace fast food options with cooking healthy meals at home.
"In food-desert communities, there is a lack of fresh and affordable food that spills over into health modalities," Foster said. "So, we want to make sure that people not only take better care of themselves, but take better care of their families and eat healthier."
For Christmas, Top Box Foods will have a holiday box available, which will include ham, cornbread, macroroni and cheese, mash potatoes and more.
For more information, visit https://www.topboxfoods.com/cookcounty-
chicago/home.