Champs Sports, Chicago Elite Classic Bring Unique Gaming Experience
12/13/2017, noon | Updated on 12/13/2017, noon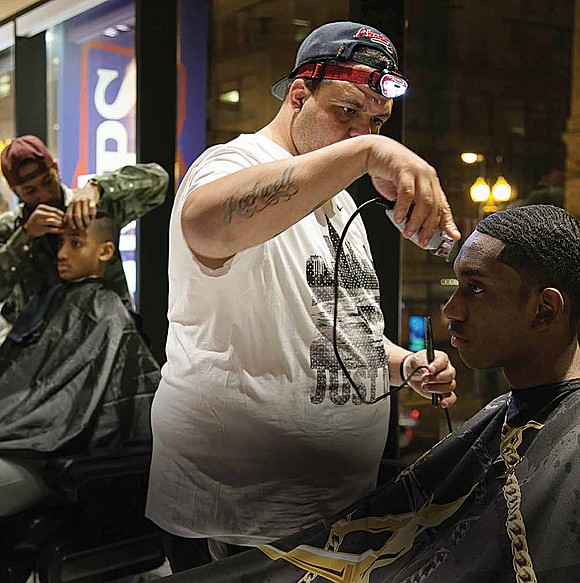 Champs Sports, Chicago Elite Classic Bring Unique Gaming Experience
By Christopher Shuttlesworth
Champs Sports recently partnered with the Chicago Elite Classic, and hosted a players' lounge at its arena, located on 112 S. State St., with video gaming, hair-cuts and braiding and an engaging photo experience.
The Chicago Elite Classic, the premier high school basketball tournament, hosted the top ranked inner-city and nationally recognized teams to compete for two days at the University of Illinois.
During the two-day event, Champs Sports Brand Marketing Manager, Latese Hickson said the retail company's vision was to create a community element where their core consumer would enjoy the shopping experience, events and activities.
"We felt that this was a perfect opportunity to talk directly to the kids who are our
core customers: the male varsity athletes," Hickson said. "That's exactly who are shopping in our stores so why not cater to them and allow them to have some free time in between their tournament games and enjoy the space."
In addition, the Champs Sports' space lounge held gaming on VR's, pin-balls, ski
balls, a table tennis and a dinner for the young male athletes.
"Our tag-on is that, 'We know game, not only on the court but outside of it," Hickson said. "We want our consumers to look good and really enjoy the experience in our store. We found that it would be a perfect opportunity with the Chicago Elite Classic to be the partner that gives guys and girls a place to hang out in between their games."
She continued to explain that Champs Sports feels very strong in building a community relationship because in the end, the community is going to support and
represent the company in the best way.
"These are the kids who are walking home from school or who on the weekend are spending their first paycheck in our store," Hickson said. "So, why not allow them to feel comfortable in our store and give them a place where they can enjoy themselves in their free time."
Champs Sports are currently in the beginning phase of hosting. For more information, visit www. chicagoeliteclassic.