Boutique Hotel to Open Summer 2018 in Hyde Park
12/13/2017, noon | Updated on 12/13/2017, noon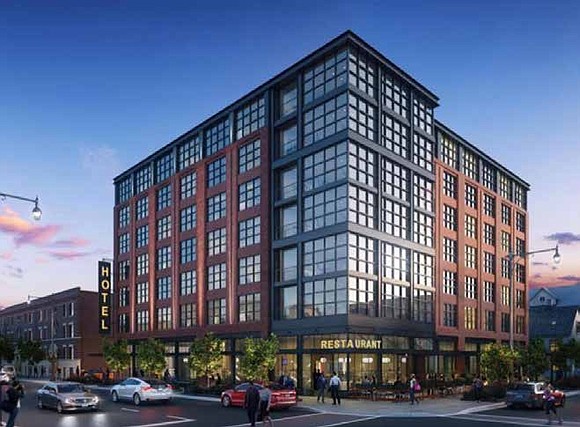 Boutique Hotel to Open Summer 2018 in Hyde Park
By: Katherine Newman
SOPHY, a new 98-room hotel, is under construction and scheduled to open in summer 2018. The hotel is located at 53rd St. and Dorchester Ave. in Hyde Park near the future Barack Obama Presidential Library, the University of Chicago and the Museum of Science and Industry.
Anthony Beach will be assuming the role of general manager at SOPHY when it opens this upcoming summer. He has resided in Hyde Park for the last ten years and has been the general manager of the Hyatt Place Hotel in Hyde Park for the last five years.
Adding a boutique hotel to the neighborhood will bring more travelers to the area and allow Hyde Park to keep booming, according to Beach.
"A boutique hotel opening up allows for us to further service guest who, at the Hyatt place, we are unable to get," Beach said. "A lot of guests from the University [of Chicago] and the medical center and international travelers want full service, we are able to provide that at SOPHY."
The team working at the new hotel will be flexible and provide service that will make guests feel like they are part of the SOPHY family, according to Beach.
"You're not going to get a robotic experience. You'll be getting a genuine experience whether you're coming for a meal or you're coming to check in or visit a guest. You're going to get a genuine experience from arrival till the day of departure," said Beach.
SOPHY will feature a bar, restaurant, a fitness center, and room service. The new hotel will open before Obama's Presidential Library does, but Beach believes when it does open, it will attract many more visitors to the area who will be interested in staying at SOPHY.
"We've had a lot of guest stay in the area specifically to visit The Museum of Science and Industry, so we expect the same from the Obama Center," said Beach. "When you think about the amount of travelers that the Obama Center is
going to bring to Chicago let alone the South Side of Chicago, it is definitely going to bring more business."
The name SOPHY is rooted in the Greek word sophia, meaning wisdom and dedication to excellence through the pursuit of knowledge, according to a recent press release from the SOPHY Hotel.
The hotel is being developed by SMART Hotels and The Olympia Companies and will be managed by Olympia Hotel Management. SMART Hotel is known to develop ecofriendly hotels and are committed to delivering projects that are environmentally sustainable and that positively impact communities.
The Olympia Companies currently has 22 hotel projects under management of development in the U.S. The company delivers expertise in hotel development, LEED building design and construction, along with sales and marketing.
For more information visit www.sophyhotel. come along with sales and marketing. For more information visit www.sophyhotel.com