"THE TIGER WHO WORE WHITE GLOVES" HOLIDAY SHOW FOR ENTIRE FAMILY
GIVE THE GIFT OF THEATER AND SUPPORT A NEIGHBORHOOD INSTITUTION
12/6/2017, noon | Updated on 12/6/2017, noon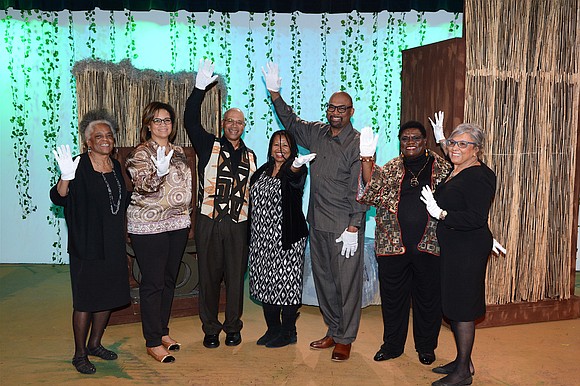 "THE TIGER WHO WORE WHITE GLOVES" HOLIDAY SHOW FOR ENTIRE FAMILY
"READ THE BOOK, SEE THE PLAY"
GIVE THE GIFT OF THEATER AND SUPPORT A NEIGHBORHOOD INSTITUTION
CHICAGO (Dec 4, 2017) – Looking for something other than Santa and reindeer to mark the holiday season? Start a new tradition with "The Tiger who Wore White Gloves," Nora Brooks Blakely's magical musical based on the book by her mother, Illinois poet laureate Gwendolyn Brooks. Suited to all ages – from grandparents to young children - it's the perfect holiday show for the entire family to enjoy together.
Currently playing at eta Creative Arts Foundation through December 23, the show is about an insecure tiger who is feeling outclassed by the king of the jungle until his friends help him realize the best person to be is himself.
"The moral of this cautionary fable bears repeating—to thine own self be true," says the READER. "But the charm of this staging from ETA Creative Arts is in the telling." Aaron Mitchell Reese, the show's co-director, comments, "At its core, Tiger is about self-love and drumming to your own beat. Tiger has the audacity to dare you to be unique in your own skin." Show times are Fridays at 8 pm; Saturdays and Sundays at 3 p.m. at eta Square, 7558 S. South Chicago Avenue. For tickets, call 773-752-3955 or visit www.etacreativearts.org.
Developed as an innovative approach to connecting literature to live theatre, eta Creative Arts Foundation partnered with the Chicago Teachers Union Foundation (CTUF) to present "The Tiger Who Wore White Gloves." The project encourages reading and experiencing of live theater by families by guiding audiences to read the book and then see the play together. Books are available for sale through Third World Press (www.thirdworldpressfoundation.com), with partial proceeds from sales returning to eta.


eta Creative Arts Foundation eta Creative Arts Foundation, Inc. provides professional training and work in the performing and technical arts for youth and adults. eta is widely recognized as one of Chicago's leading performing and cultural arts complexes in the African American community and one of only a few African American owned and managed facilities of its kind in the city. eta has a commitment to the production of new works and the development of the individual artist.