Shedd Aquarium Wreath-Cycled Classroom Challenge
12/6/2017, noon | Updated on 12/6/2017, noon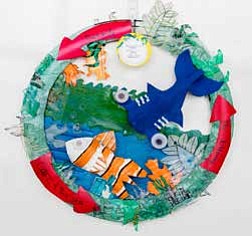 and use them over again."
Rodriguez said she thinks this generation is a lot more consciousness about
recycling, but she says there is still so much waste in the world.
"Even until I started doing the wreath project, I didn't even know the extent of how much plastic was a problem," she said. "So, many things that we use and don't really think about or [things] we reuse are plastic. I think
it is a very relevant for students to think about the [positive] impact of reusing bottles at multiple times can have on the environment."
More than 100 of the "Wreaths to Save the Sea" debuted at the aquarium alongside five new sculptures from the Washed Ashore: Art to the Save the Sea collection.
"All 100 student reefs are hanging at the Shedd Aquarium and making it very festive," Schneider said. "It's always a joy to see how the wreaths provide an extra conversation starter on the positive impacts we can have on the environment."
During the end of December, the Shedd Aquarium will host a family event where each classroom that participated can bring their families to the Shedd Aquarium to see their wreaths and hear the winner of the challenge.
For more information, visit https://www.sheddaquarium.org/ Learning-Experiences/Educators--Classrooms/Classroom-Clubsand- Competitions/Wreath-Cycled/.