Shedd Aquarium Wreath-Cycled Classroom Challenge
12/6/2017, noon | Updated on 12/6/2017, noon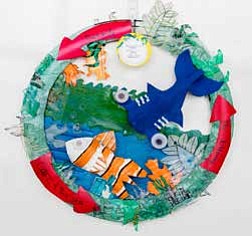 Shedd Aquarium Wreath-Cycled Classroom Challenge
By Christopher Shuttlesworth
More than five years ago, the Shedd Aquarium launched their Wreath-Cycled Classroom Challenge, which recently allowed seventh grade students at John F. Eberhart Elementary School to create their own wreath made from 100 percent recyclable plastic material, which brought awareness to "Wreaths to Save the Sea".
Heather Schneider, assistant director of learning programs at the Shedd Aquarium, said the Wreath-Cycled Classroom Challenge is one of the ways young people can discuss how the world can positively impact on the environment.
"We want them to design a fun, creative way to not only impact their classroom directly, but to also think about the choices they make every day and the impact [their choices] have on the environment," Schneider said.
She explained that the Shedd Aquarium provides interested teachers with a wire
framed wreath, which is a basic wired circle. Schneider said the students have access to online curricular activities and fun ways to engage more students to begin creating their recyclable plastic wreaths. Online curricular activities also provide information on what safety tools students should use.
"We want their imaginations to run on how they would like to display the plastic trash to tell an important message on how we can reduce, reuse or even avoid
reusing some of the materials in our everyday lives that ultimately impact our environment," Schneider said.
Mary Rodriguez, art teacher and magnet cluster lead teacher at John F. Eberhart Elementary School, said the seventh grade students had total control of their wreath project and after looking at some wreath examples online, they begin sketching out designs of their wreath ideas, discussing themes and vote on the best wreath.
"The students were pretty excited about the wreath project because they didn't get an art course this year because of scheduling," Rodriguez said. "So, I think it was nice for them to have a hands-on opportunity."
Students also wrote essays, in hopes of winning a free trip to the Shedd Aquarium, explaining different ways that they can protect their waterways, such as using reusable water bottles or choosing not to use straws.
Rodriguez said the class selected the best student essay from the class to present to the Shedd Aquarium, which was written below by student Solalexis Garcia: "The best way to help with recycling plastic is not using it at all. It's better to use glass or other types of materials to keep plastic from taking up too much space and help the oceans because most of the plastic gets thrown into the oceans and lakes," Garcia said in her essay. "[We should] help pick up bottles around our communities and put them in the recycling bins. It's better to just buy a filter to hook up to your sink. Sometimes the water from your sink doesn't taste as good, but the filter will help the water taste almost like a water bottle. The best decision is to buy a pack of water bottles, but save them to refill them with filtered water