Review: YouTube Music Sensation Alicia Grimes "The Album 43" Reaches Over 170 Million Streams On SoundCloud
12/6/2017, noon | Updated on 12/6/2017, noon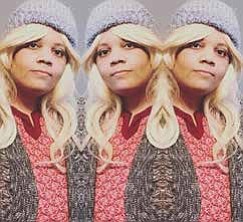 Review: YouTube Music Sensation Alicia Grimes "The Album 43" Reaches Over 170 Million Streams On SoundCloud
YouTube Music Sensation Alicia Grimes has released her latest creative endeavor, her new single, the dynamic and eclectic "Jazz Walk" which has amassed over 83 million SoundCloud Streams and over 170 million streams for her "The Album
43" in 8 months already. Her "Jazz Walk" video on YouTube has over 687,365 views with over 2,625,698 YouTube plays. Alicia is receiving local radio support from several popular radio stations.
With the record tearing up the clubs, Alicia has gained the support of many industry heavy weights championing the record. Its no wonder, She was named by numerous of publications as best new artist to watch in 2017 and beyond. Her music is presently being monetized and distributed by Vydia, Inc.
The new album from young phenom Alicia Grimes couldn't come at a better time. As a new generation takes the reins. This music artist is taking the music industry by storm. Her style many argue, is a fascinating fusion of Electronic, Alternative and Pop and also she is a YouTube Music Star and a very incredible independent business woman who is making waves in the music world. This Chicago Native is rising to fame.
Alicia first stormed on the music scene In 2013 when she began promoting her music on YouTube. Her first upload quickly attracted more than 300,000 views.With whats now over 2,625,698 YouTube Views. She has built a remarkable career in the music industry while notable and famous in the music industry for her hit singles 'Say I Do' and 'Love You'. Apart from her music career she found success within the marketing profession. Her company Alicia Grimes Promotion had made it on the Evan Carmichael Top Marketers to follow on Twitter. From March 2013 – April 2015 and currently. She was #1 on Evan Carmichael Jan-May 2015 Top Marketers to follow on Twitter and continues into 2016. She is currently the #14 Top Twitter Accounts for Chicago, and #4 Top Twitter Accounts For Detroit Michigan. Already amassing over 89K followers on Instagram; over 70K likes on Facebook; 170 Million plus SoundCloud streams; 2,625,698 YouTube Views; Her video Money Money clocks in @ over 1.1 million views. Few young artist are making such a impact. Alicia is living out loud and proud her music is clearly standing out.
Alicia Grimes Promotion was in the top 100 Twitter users in Chicago Illinois. She is the current music artist in Central Illinois to hit over 1 Million Real Twitter Followers so far. Already presently amassing over 1.3 Million followers on Twitter.
She really found her niche by getting behind her own brand and using every opportunity out there online and in the music world to get her music heard and she did it all independently without being signed to a record label. With so many accomplishments under her belt already Alicia continues to prove that she is continuing to reach more heights as a music artist each day. Not only has she done some incredible things in music she got a education. She worked with women inspired activities, boyz and girls club. international music network. women inspired
activities to get where she is at. Along with making music, Grimes took business classes in the '90s and in 2016, founded her own Alicia Grimes Entertainment Label. She is someone who really took her destiny in her own hands and reached the celebrity birthday list. She is on the list of famous Illinoisans and is ranked #13,801 most popular famous person worldwide.
There are few, if any, new unsigned music artist thriving like Grimes is. Thus, Grimes' music is entirely original unto itself, and the performer's prolific releases have marked her as one of the most notablé phenom rising talents today.