Irvin C. Mollison Elementary Holds Meeting to Address Rodent Problem
12/6/2017, noon | Updated on 12/6/2017, noon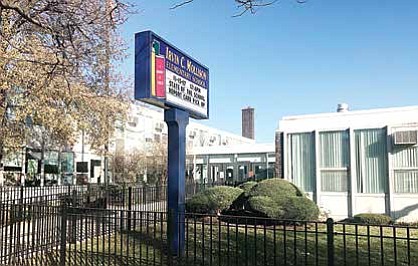 Irvin C. Mollison Elementary Holds Meeting to Address Rodent Problem
By: Katherine Newman
The local school council (LSC) for Irvin C. Mollison Elementary held a meeting on Nov. 21 where they addressed concerns about a rodent problem going on within the school.
The meeting began with the teachers report listing that teachers at Mollison
appreciate the extra cleaning they have seen take place since the rodent problem has become a concern, but they believe the problem is still persisting and there a more that should be done to protect the staff and students. On Oct. 24 Mollison failed a health inspection.
"It's not un-normal for a school not to pass an inspection from the health department. I found out probably a day after the failed inspection," said Martin Miller, facility manager for Mollison, who added, the school passed a city inspection after making all of the required corrections.
Yolanda Redman, LSC Chair, read out loud several of the violations that were listed on the inspection report. Violations were also posted on chicago.everyblock.com.
"10 mice droppings on window ledge and radiator in staff lounge, 10 mice droppings on floor between walk-in freezer and reach-in cooler in staff lounge, 5 mice droppings on table near microwave and on phone in staff lounge, 5 mice droppings scattered on floor in dry storage area in kitchen, 5 mice droppings on floor along lockers in locker room, 10 mice droppings on floor in hallway
near lunchroom manager office, 10 mice droppings on floor near cubbies and refrigerator in pre-k room, do y'all want me to go on?" said Redman.
Aramark is contracted by Chicago Public Schools to provide janitors at Mollison.
"I have heard the concerns that are here and we are doing our best to address them in terms of the mopping of the classrooms as well as the daily vacuuming," said William Washington, Aramark Custodial Manager for Mollison.
The Aramark staff working at Mollison is supposed to spot-mop and spot-vacuum every classroom daily. Weekly, every class room is cleaned top to bottom and disinfected, according to Washington.
Washington said Nov. 22 was a non-attendance day where time was taken to, "clean up any rodent droppings or anything of that nature," he added.
Reportedly, aggressive pest control followed by a deep cleaning by Aramark took place over the Thanksgiving holiday break. "[Pest Control] will be doing extra baiting to catch any remnants that are still around. Aramark will be coming in with
extra staff to clean over the Thanksgiving weekend and by Monday morning this place should be spotless regardless of the fact that we have already been inspected and passed," said Alex Amp Lead Facility Manager for the Bronzeville area.
CPS and Aramark officials in attendance insisted that the rodent problem was a top priority for everyone and that the school would be spotless when students returned from Thanksgiving break.
"There are many issues that occur throughout the city of Chicago within our schools. This is a priority for us and a priority issue for us to resolve," said Kareem Pender Director of Family and Community Engagement for Chicago Public Schools. "We want to ensure that there are safe and healthy environments for all of our students and all of our staff through the entire district."