Fernwood Elementary briefly Theme is to Be Phenomenal
12/6/2017, noon | Updated on 12/6/2017, noon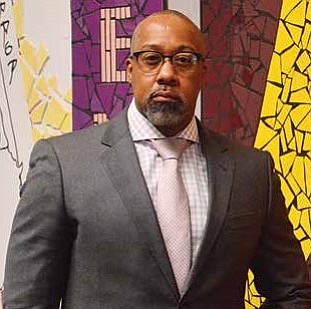 Fernwood Elementary briefly Theme is to Be Phenomenal
by Christopher Shuttlesworth
Robert L. Towners, head principal of Fernwood Elementary, located at 10041 S. Union Ave, comes from a long line of educators and is a product of the Chicago Public School (CPS) system, a graduate of Percy L. Julian High School. He is also a graduate of one of the Historic Black Colleges and Universities (HBCU)-Tuskegee University. Towners furthered his education to receive a Master's Degree from Chicago State University and a second Master's Degree from Concordia University.
The Citizen sat down with Towners to hear how his passion for education has overflowed onto local students within the community.
Towners said he grew up in an urban community where he didn't see a lot of hope but he says his turning point came when he attended Tuskegee University.
"My true heart lies with Tuskegee University because it was my first time being away from home and I was able to see life outside of Chicago," Towners said. "It was a big change from seeing what happens in the inner city where things at any moment can get crazy to being at a Historic Black University where everyone is about business."
He said after graduating from Tuskegee University, he was able to come back to Chicago and relate the experiences and lessons he learned back to the students he currently serve.
"They often don't get a chance to see that side so I came back to let them know there is another life outside of their six block radius," Towners said. "I need them to know that there are a lot of things in college that will be big for them in addition to education, making new friends, seeing new things and expanding their horizon."
He continued to explain how he uses naviance, a CPS college prep program, to help Fernwood's eighth graders know that they're at a milestone and their next choice for the next four years in high school will determine what happens for the rest of their lives.
"If you go to a high school that's not going to pour and challenge you but only pass you through, then you're not going to want to go to college, succeed and do great things," Towners said.
"So, you have to select schools that will add value to where you want to be in life."
Since arriving to Fernwood Elementary, Towners has implemented groundbreaking instructional systems within the school, which has resulted in Fernwood becoming a Level 1 School, exceeding better than 92 percent of schools nationally on the NWEA Map Test in reading and gaining a 95.9 percent attendance rate.
"I look at myself as a serving leader because the administration aspect is just for business," he said. "But the part of being the principal that matters most is serving our community and students and making sure that the students understand my job only exists because of them." Towners continued to say, "When I got here I had to introduce a new way of teaching and talk about integrating technology because now we're teaching different types of students," he added. "You can't teach the same way you taught 20 years ago. So, now we have five to six computers in every classroom and every student has a Chromebook [computer] or IPAD."
In addition, Fernwood now offers employment to undergraduate and graduate students to assist teachers on a daily basis to help students.
"I tell my youth and young teachers to come here and get what you can out of what we can give you but don't get stagnant," Towners said. "I want you to go outside of here to learn how to advance through your career. I want you to have a career, not just a job." Towners said he hired the undergraduate and graduate students to show the younger kids more success stories of people who look just like them so they have no excuse of not succeeding in life.
"They went to school and got their bachelors and they are working," he said. Students often times get caught up in their excuses. But I want them to know they have to persevere through whatever challenges they're going through and only they can decide the right choice, he said.
For more information about Fernwood Elementary, visit website: http://www.fernwoodelementary.org/.