Apostolic Faith Church Opens New Facility
12/6/2017, noon | Updated on 12/6/2017, noon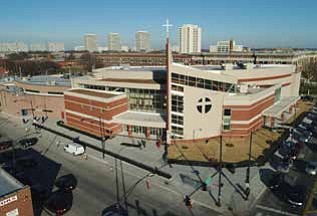 Apostolic Faith Church Opens New Facility
By: Katherine Newman
Apostolic Faith Church held an opening service for its new 3,000 seat worship complex on Nov. 26. The space has been designed to support and improve the community and the lives of Chicago residents.
"Our theme was crossing over to multiple generations. We had young people, elders, and board members and each one had a participation in the ribbon cutting at different points in the facility to indicate that we are doing this as a multi generational church," said Bishop Horace E. Smith, pastor of Apostolic Faith Church. "Our emphasis is to make sure that we are inclusive to all generations."
The Apostolic Faith Church has served Bronzeville residents since 1915 and is one of Chicago's longstanding congregations, according to a press release from the church.
Bishop Horace E. Smith, M.D. was named pastor of Apostolic Faith Church (AFC) in 1980. He is also an attending physician specializing in Pediatric Hematology/Oncology at Ann & Robert H. Lurie Children's Hospital of Chicago.
In addition to being a worship facility, the new complex is home to a multipurpose youth center, an administrative annex with classrooms and a safe haven for young people and families to come to.
"We make sure what we do not only impacts families who are members of our church but also people who are members of the community. Of course we want them to be a member of the church but it's not a requirement," said Bishop Smith.
The Grand Opening Celebration will continue with several events during the first 2 weeks of December.
On Dec. 8 iHeart Radio will hold, in collaboration with AFC, the Give and Receive Christmas Concert in the new facility. Attendees are asked to bring a toy or canned good to donate for admission.
"All those gifts that we receive on the 8th, there will be probably upwards of two or three thousand, they'll be given to kids who are in need in the community and in the church," said Bishop Smith. For the last 12 years, the AFC has hosted a Christmas Day celebration where about 400 volunteers feed around one thousand people.
The church works with about twelve shelters who will all be invited to attend the celebration. At the celebration the attendees will not only receive a meal, but also a free coat, hat, scarf, and gloves. This will also be when the toy donations from the iHeart Radio Christmas concert will be distributed.
"At that Christmas Day celebration when the kids come from those shelters, they will go into our fellowship hall where there will be about 4,000 toys. They can pick any two they want and they also get gloves, a coat, scarf, and hat," said Bishop Smith.
For more information on events at the Apostolic Faith Church, visit https://www.afcchicago.org.