COMED UNVEILS SOLAR SPOTLIGHT PYRAMID IN BRONZEVILLE
8/30/2017, noon | Updated on 8/30/2017, noon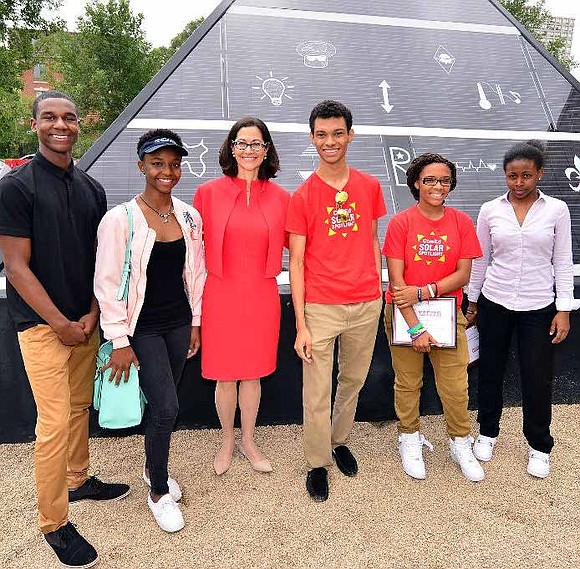 By Christopher Shuttlesworth
ComEd executives and community leaders celebrated the unveiling of ComEd's new Solar Spotlight Pyramid, which was created by Artist Shala and ComEd's Solar Spotlight high school students, in the Bronzeville neighborhood.
In 2016, ComEd's Solar Spotlight program was launched to teach and develop high school students through STEM courses like science, technology, engineering and math, according to a ComEd press release. The 2017 Solar Spotlight program incorporated the Arts and included workshops on solar energy, African-American trailblazers and the earliest forms of STEM.
"In part of STEM education, it is a critical factor for our students today," said Andrea Zopp, who is the Deputy Mayor and Chief Neighborhood Development Officer. "We have a real focus on it because we know it is a critical element in achieving in jobs and future opportunities."
Solar Spotlight students helped Shala create personalized symbols on the solar pyramid by designing elements from modern-day logos and ancient hieroglyphics.
"I wanted to create a magnet that would bring power to my people and my community," Shala said. "Pyramids have always been known to do that and this one literally empowers lives."
Senator Mattie Hunter of the 3rd Ward said solar energy is so important and is truly the way of the future.
"The more we learn about Solar, then the more educated we will become," Hunter said. "We will save more money on our energy bills and here we are with a pyramid on 47th and energy will actually resonate throughout."
Gallery Guichard, a Bronzeville's gallery of art, collaborated with ComEd to construct plans for the solar pyramid installation, which is the first art project created by students in ComEd's Solar Spotlight Program, according to a ComEd press release.
"This journey has been truly fulfilling and I believe activism is contagious," Andre said. "I believe this project will help more people to collaborate amongst each other."
Alderman Pat McDowell said she asked a couple who noticed the solar pyramid as they were walking by and they replied 'It made them feel good this morning.'
McDowell added, "That is what we're trying to achieve on 47th Street. We want people to stop and look and think about the possibilities for our community."