ORGANIZERS STAND IN SOLIDARITY WITH CHARLOTTESVILLE
8/23/2017, noon | Updated on 8/23/2017, noon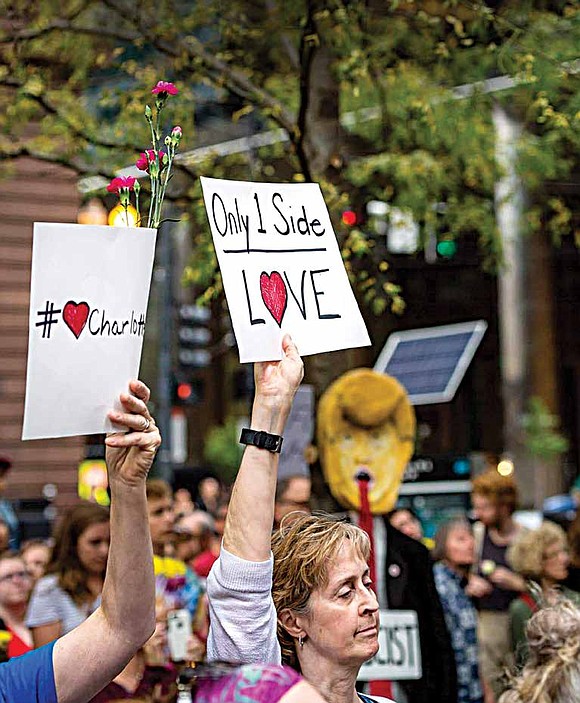 ORGANIZERS STAND IN SOLIDARITY WITH CHARLOTTESVILLE
By Christopher Shuttlesworth
A coalition of progressive organizations held a vigil on Aug. 13, 2017
at the Federal Plaza and stood in solidarity with counter protestors in
Charlottesville, Virginia, a democratic based city.
Mrinalini Chakraborty, who is the national head of field operations
for the Women's March Network, said the peaceful vigil was called to action
within hours after witnessing white nationalists and hate groups rally at
the University of Virginia on Aug. 11, which led to one death and 19 injured
counter protestors from a car-ramming incident the following day.
According to CNN, Attorney General Jeff Sessions said U.S. Attorney
Rick Mountcastle is now leading a civil rights investigation on the car crash.
Chakraborty said after hearing about the tragedies in Charlottesville, it
was important for her to organize a diverse group of speakers to share their
stance on racism and how their organizations are combating it every day.
"Communities of color have been dealing and fighting with these issues
for centuries," she said. "It was really important in that moment and time
that we drew those connections so that people knew that a lot of folks were
outraged for the first time in their lives."
Some of the organizations that were included in the vigil were Black
Lives Matter, Indivisible Illinois, Indivisible Chicago, Friends Who March,
Women Of Faith, Suburban Unity Alliance and Planned Parenthood of
Illinois.
Chakraborty said it was important for everyone to be in community
together and be a living memorial for car-victim Heather Heyer and the rest
of the 19-injured counter protests in Charlottesville.
"We had a moment of silence where folks raised their flowers in the air
and recommitted to continue to fight the struggle to have an America that
truly welcomes all of us, not just some of us," she said. "We have to stamp out white supremacy where it stands because this is not acceptable."
Chakraborty continued to say that she is in shock to know that
racism still exists in 2017 and says the Trump administration has,
"lit the fire," as it relates to the current racial hatred in the country.
"It's not like silent racism, but it's like in your face racial hatred," she stated. "I think these problems have always existed and the Nazis and white supremacists were always hiding in the woodworks."
Chakraborty added, "This administration has emboldened
[them] and given [them] permission so these things can happen
in the open and these people have no fear of consequences."
In terms of going forward, Chakraborty said organizations like
Women's March Network and Black Lives Matter must continue
to protest and fight against this divisive rhetoric even if it means
losing family and friends.
"It's not good enough to say I am not a racist, but you have to actively
organize as an anti-racist," she said. "You might lose some friends,
but in this moment in history, we have to decide whether or not, we're
willing to lose stuff and sacrifice some things we cherish. People are
coming to the realization that they have to be active in this continuing
struggle that we are all in."