Wizkid, Taylor Bennett and Heatwave join Wyclef Jean for 2017 African Festival of the Arts this Labor Day
Tickets now available for September 1-4 celebration of African arts and culture
8/16/2017, noon | Updated on 8/16/2017, noon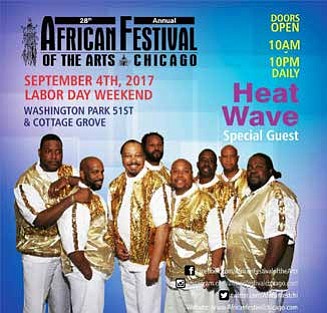 The Festival boasts five distinct areas each representing a center of culture and commerce on the African Continent: Nubia (fine arts); Kush (wearable arts); Songhay (African arts & crafts, collectibles and natural products); Timbuktu (African fabric and fashions); and Bank of the Nile (food court).
There will be pavilions highlighting South African wines, health & wellness and fine arts. Pavilions include: Spiritual Pavilion; Quilting Pavilion; David Durojaiye Olupitan African Heritage Pavilion; Author & Book Pavilion; Drum Village; Dr. Nurudeen Olowopopo Health & Wellness Pavilion; and the Bernice Gardner Children's & Family Pavilion.
Master African drummer, Olu Shakoor, conductor of the African Drum Village, specializes in both traditional and contemporary styles of African Drumming and excels in the Djum-Djum and Djembe Drum.
For those wanting to sample the tastes of Africa, you can dine on dishes in the tradition of Nigeria, Senegal and the Caribbean, as well as Cajun and Southern soul. But, the real stars of the Festival are the fine arts and the artists who make them—be they painters, sculptors, jewelers, or wood carvers.
Founded by Liberian-born business leader Patrick S. K. Woodtor, the African Festival of the Arts has become a national destination point for those seeking to immerse themselves in the African culture.
Woodtor founded the African Festival of the Arts as an outgrowth of his art shop, Windows to Africa, and he, along with his board of directors, have grown the event into a Labor Day staple. In all these ways, the Festival gives attendees a glimpse of Africa without the need for plane tickets and for less than the cost of applying for a passport.
Sponsors of the 2017 African Festival of the Arts include: Chicago Park District, ComEd, Next Level Health, Argo, Allison Jordan Events and PNC Bank. Media partners include: Comcast, NBC Universal, WVON, Bronzecomm, the Chicago Citizen and Chicago Crusader newspapers, AfroZons, and Senior Talk with Clara Hubbard.
Tickets for all shows are included in the price of admission to the Festival, and may be purchased now beginning at $15. There are discounts for seniors, as well as four-day and VIP passes. Children under five are free.
Learn more by visiting www.aihusa.org and clicking on African Festival. You can also go to Twitter: @AfricanFestChi Facebook: AfricanFestivaloftheArts and Instagram: @africanfestivalchicago