GUBERNATORIAL CANDIDATES INVITED TO WOMEN'S FORUM
8/16/2017, noon | Updated on 8/16/2017, noon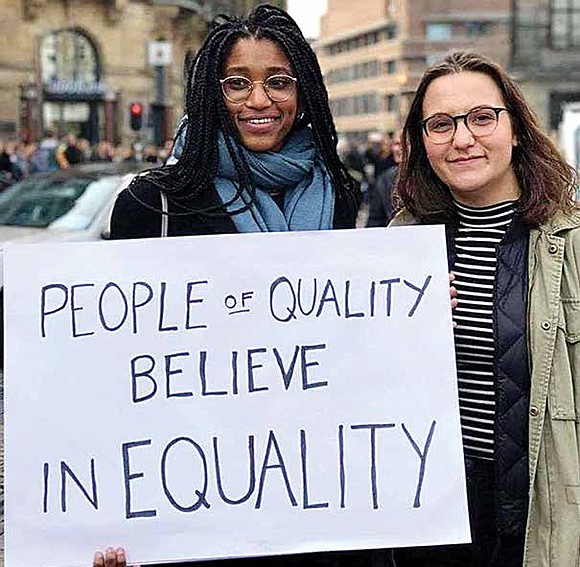 GUBERNATORIAL CANDIDATES INVITED TO WOMEN'S FORUM
By Christopher Shuttlesworth
A grassroots coalition of Illinois women will host a panel discussion to hear viewpoints and policy ideas from Democratic candidates for governor. The panel discussion
will take plan on October 26.
The hosting organizations include Women's March Illinois, Indivisible Illinois and She Votes Illinois. The groups were formed during the 2016 presidential election to help continue the, "national wave of new activism and citizen engagement that is shaping the local and national political landscape.
Liz Kersjes, president of She Votes Illinois, said the newly formed political organization plans to highlight the importance of women's issues and policy making in
elections.
"The women of Illinois are politically engaged, we are diverse, and we are committed to making our voices heard and respected by our elected officials at every level," Kersjes said.
The forum, "is a can't-miss opportunity for women and allies of women to hear from all of the candidates on issues women care about," she added.
"We want every Illinoisan to make an informed and confident decision when voting in the 2018 primary election."
Kersjes said the women organizations want to discuss a diverse set of issues that impact on women.
"Specifically, we want to make sure we're asking questions that are not just important to white women, but immigrant women, LGBT identified women, women of color, poor women as well as women with different means."
"We're going to be soliciting the questions from different community organizations that work on specific issues," Kersjes said. "For example, I'm not an immigrant woman, so I wouldn't come up with a question on immigration issues. But I'm going to reach out to an organization who works on immigration in Illinois and ask them what they think the most important community issue is."
Kersjes said a lot of people know about policies that President Donald Trump or their respective senators are working on, but she says some people may not realize that getting involved at the state and local levels can give them access to their elected
officials.
"The elected officials have way fewer constituents so your voice can be heard a lot easier," she said. "Also, at the state and local level a lot of decisions are being made that directly affect people's lives."
Kersjes noted that she understands a lot of people may want to get involved in political issues, but may not know where to start. She says the upcoming women's forum is a good starting point.
"We want to make sure we have an opportunity to talk to the candidates and let them know the women of Illinois are engaged and want to work with them so the next governor understands our needs," she added. For more information email shevotesil@gmail.com.