Regina Belle to perform at 28th Annual African Festival of the Arts Gala at DuSable Museum
Rev. Jeremiah Wright to be recognized as Grand BaBa; Linda Murray as Grand YeYe Just added to Labor Day lineup Reggae artist Wayne Wonder
8/9/2017, noon | Updated on 8/9/2017, noon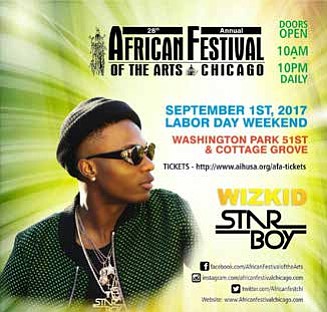 Regina Belle to perform at 28th Annual African Festival of the Arts Gala at DuSable Museum
Rev. Jeremiah Wright to be recognized as Grand BaBa; Linda Murray as Grand YeYe Just added to Labor Day lineup Reggae artist Wayne Wonder
(CHICAGO) – Africa International House will host their Annual Gala, held as a precursor to the 28th Annual African Festival of the Arts (AFA), at the DuSable Museum on Friday, August 18 from 7 p.m. - 11p.m. The event will feature a special performance by singer, songwriter Regina Belle , The Gala is
a wonderful sampling of African culture, that features all the elements of the Festival including food, displays of art and artifacts, African fashion, and of course music. Emcees for the evening are Dana Divine and A.C. Green.
Honored at the event will be this year's Grand BaBa Reverend Dr. Jeremiah A. Wright, Jr., pastor emeritus of Trinity United Church of Christ, and Grand YeYe, retired assistant principal Linda Murray. The theme for the Gala, and this year's Festival, is Respect, which is in keeping with the city of
Chicago's declaration of 2017 as "The Year of Public Art," which also includes the 50th anniversary of the South Side's "Wall of Respect."
This Gala is a precursor to AFA, which will be held Labor Day weekend (September 1-4) in the historic Washington Park. Africa International House USA, Inc. (AIH), the producers of the Festival, is pleased to announce outstanding national and international talent for the 2017 event. Performing Friday, September 1will be Nigeria's first son of Afrobeats Wizkid, and independent artist and younger brother of Chance the Rapper, Taylor Bennett; Reggae Artist Wayne Wonder will perform on Saturday, September 2; Sunday, September 3 lyricist, singer, musician, producer, poet, and songwriter, Wyclef Jean, will take the stage; and on Monday, September 4 the preeminent band of funk, boogie and disco era, Heatwave will close out the weekend.
AFA is the largest event of its kind held in the U.S. with a focus on African arts and culture drawing individuals and families from across the country to the Festival grounds in Washington Park. Over 300 vendors and artisans will present artifacts, textiles, traditional crafts, and museum-quality art. Enjoy the African-influenced food, music and dance traditions during an entertainment-rich, family-focused celebration unlike any other in the Midwest. Patrons can sample the tastes of the Diaspora in
the Bank of the Nile Food Court. For the shoppers, there will be museum quality collectible artifacts, colorful and richly hand-woven fabric and textiles, jewelry and of course art work.
Sponsors of the 2017 African Festival of the Arts include: Chicago Park District, American Family Insurance, ComEd, Next Level Health, Argo, People's Gas, JB for Governor, Gift of Hope, and PNC Bank. Media partners include: Comcast, NBC Universal, WVON, Bronzecomm, The Chicago Defender Chicago Citizen and Chicago Crusader newspapers, AfroZons/ Power 92, and Senior Talk with Clara Hubbard.
Tickets for the Gala are $75 person/ $125 per couple, and may be purchased by visiting AfricanFestivalChicago. com. Learn more about the Gala and Festival by visiting this link. Follow us on all social media outlets using the hashtag #AFAChi.
Tickets for the Festival include all entertainment, and may be purchased now beginning at $15. Click here for advanced purchase. There are discounts for seniors, as well as four-day and VIP passes. Children under five are free.
Get Social with the African Festival of the Arts and keep up with our updates for this year's event.
Twitter: @AfricanFestChi Facebook: AfricanFestivaloftheArts Instagram is @africanfestivalchicago
About African International House The mission of Africa International House (AIH) is to serve as a center that exposes and educates all people to the individual works, and collective contributions, of African cultures. Our mission is addressed through our flagship program, the African
Festival of the Arts, and through other activities that promote African-based culture.