Parents are Buying Black as Kids Head Back-to-School
8/9/2017, noon | Updated on 8/9/2017, noon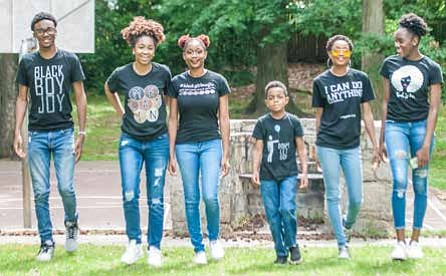 Parents are Buying Black as Kids Head Back-to-Schoo
By Christopher Shuttlesworth
The time for students to return to school is approaching and Black businesses around the world have creative back-to-school supplies, backpacks, clothing and more for students' upcoming school year. The Citizen created a list of seven Black owned businesses where parents or guardians can shop online for school items.
Blended Designs: specializes in designing backpacks, t-shirts, tote bags with positive messages displayed on them. The company's headquarters is based in Jacksonville, Florida but serves clients in several United States locations. Its focus is geared towards helping first generation college students and high-school students know college is a vital part of their life success. You can visit the website at https://blendeddesigns.com/
Brown Girls Stationary: was created after the owner found that the "stationary" world was lacking diversity. Currently, the company's main goals is to highlight brown girls' beauty, di…erent shades and natural hair styles like 4c coils, bantu knots, twist outs, braids to straight hair. You can visit the website at https://browngirls- stationery.myshopify.com/
Happy Mango: is an eco-friendly store based in Kirkwood, Atlanta, which specializes in products for pregnant mothers. While the store is known for its healthy, green products, it also serves as a tool for moms to interact and sign up for educational classes, playdates and events. You can visit the website at https:// shophappymango.com/
Moe Melanin LLC: was founded to help create positive imagery and representation of African Americans. Moe Melanin maintains despite what the media chooses to portray, their organization will continue to provide unified and empowering images through clothing, school supplies, mugs and more. You can visit the website at https://www.moemelanin.com/
Oh So Paper: notebook and sticker designs include positive imagery of Black and Brown girls. The company's goal is to instill fun in the word functional. You can visit the website at https://ohsopaper.com/ Ariya the Mermaid: was created by Jamillah Richmond to bring life to young brown girls like her daughter who felt excluded by the mermaid market.
Richmond now brings joy to brown girls through her positive representation of black mermaids that features vibrant colors and natural hair. You can visit and purchase an Ariya the Mermaid at https:// ariyathemermaid.com/
Gabby Bows: Rozalynn and seven-year-old Gabrielle Goodwin created the first double faced, double snap barrette hair accessory, and it comes in all colors. As the youngest ever South Carolina Young Entrepreneur of the Year, Gabrielle Goodwin has encouraged young
people like her to always "work hard, persevere and never give up because obstacles will be in your way and you'll have to never give up in order to get through them," stated on gabbybows.com. You can visit the website at https://gabbybows.com/